What are the Different Surgical Assistant Jobs?
A surgical assistant, also known as a surgical technician or surgical technologist, is a professional who works closely with a surgeon on a daily basis. Many surgical assistant jobs can take place in multiple settings, including hospitals, delivery rooms, clinics, or even outpatient treatment centers.
A surgical tech provides direct assistance through preparing patients for surgery, sterilizing and assembling equipment prior to procedures, and monitoring patient vital signs throughout operations in order to aid in executing safe and successful surgeries. Surgical assistant jobs also involve caring for a patient following an operation, as well as cleaning and restocking the operating room.
There are multiple surgical assistant jobs available to those who would want to enter this profession. While these same duties apply to the majority of opportunities, each one differs based on area of specialty.
General surgeons are often referred to as "scrubs" and are often competent in a variety of fields. Surgical techs in orthopedic surgery specialize in treating the musculoskeletal system through various procedures, and may be responsible for giving injections, ordering x-rays, applying or removing dressings, splints and casts, and documenting the patient's status.
Neurosurgery assistants are versed in functions of the central and peripheral nervous systems, as well as spinal column diseases. Spinal surgery assistants specialize in spinal procedures, while surgical technologists working in otolaryngology are trained in ear, nose, throat, head and neck disorders. Obstetrical surgery technicians pursue the study of women and childbirth, and typically assist with baby deliveries.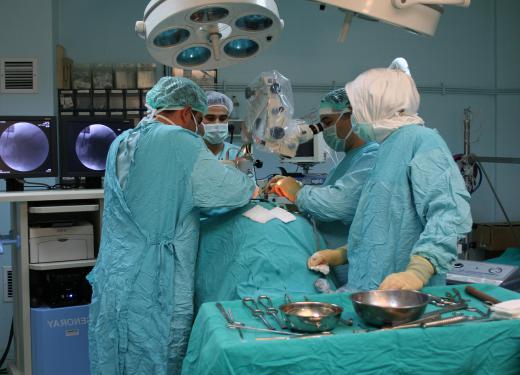 Gynecological surgery technologists can expect to assist in female operational procedures, particularly those dealing with the reproductive system and disorders. Surgical assistant jobs in craniofacial surgery involve both maxillofacial and plastic procedures, which deal with the head, neck, face, jaws and mouth, as well as reconstruction and restoration.
In the genitourinary field, surgical techs are educated in the reproductive and urinary systems. Cardiac surgery assistants are expected to aid in heart and blood vessel procedures, while careers in vascular surgery specialize in the circulatory system in general.
Surgery jobs in the trauma field can include a multitude of critical care operations, including emergency procedures on the abdomen, chest, and neck, as well as central nervous system injuries. Finally, surgical assistant jobs in the ophthalmology field can expect to work on eye procedures, such as cataract or glaucoma surgery.
Surgical assistant jobs are overseen and directed by the surgeon him or herself.
AS FEATURED ON:
AS FEATURED ON:

By: Tobilander

Surgical assistants prepare surgical tools for operations.

By: Peter Orsaeo Sr

An ophthalmologist's surgical assistant might work on cataract surgery.

By: muratolmez

Surgical assistants prepare patients for surgery, prepare operating rooms, and sterilize equipment, among other duties.