What are the Different Sleep Disorder Symptoms?
Common sleep disorder symptoms include excessive sleepiness during the daytime, irritability, difficulty concentrating, and memory loss. Such symptoms tend to be caused by abnormal sleep cycles. An abnormal cycle could be marked by a consistent, but unrestful sleep, or by an inability to sleep at night. Many sleep disorder symptoms, such as extreme absentmindedness, are highly noticeable, but others, such as merely feeling tired throughout the day, are more subtle and may not be properly understood as a symptom of a sleep disorder.
Excessive daytime sleepiness, known as hypersomnia, can be symptomatic of a variety of sleep disorders, such as sleep apnea, narcolepsy, and restless leg syndrome. Sleep apnea is characterized by periods during which the sleeper's breathing is interrupted. This can result in an inconsistent and unrestful sleep. Oftentimes, the sleeper doesn't even realize they're suffering from sleep apnea, even when the breathing disruption causes them to wake up. Apnea can be caused by loose tissue in the back of the throat that blocks the airway. It can also be caused by brain signals that cause the sleeper to temporarily halt breathing.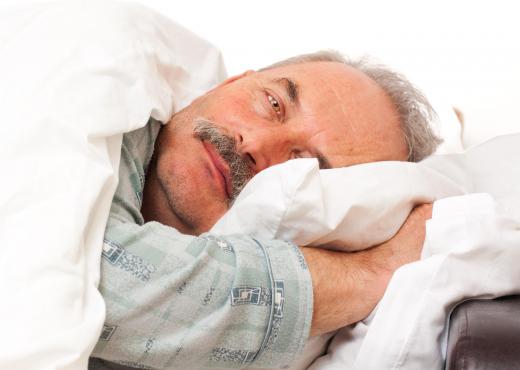 Like sleep apnea, restless leg syndrome is a condition that can interrupt sleep to the point of causing excessive daytime sleepiness. It's marked by uncontrollable leg spasms that often occur as one is falling asleep, but which can also occur during sleep. Leg kicks can also disrupt the sleep of others in the bed.
Narcolepsy occurs when an individual feels extreme, but periodic, sleepiness throughout the day. The sleepiness isn't caused by a lack of sleep at night; rather, it's a chronic condition that one must learn to manage. People who suffer from it will experience periods of extreme sleepiness—to the point of actually falling asleep—throughout the daytime, yet other periods of the day may be marked by no sleepiness whatsoever.
Abnormal sleep cycles cause many sleep disorder symptoms as well. They can be caused by a myriad of disorders, including delayed sleep phase syndrome (DSPS), in which one has trouble quickly falling asleep; a disorder with one's circadian rhythm; as well as sleepwalking and sleep terrors. Abnormal sleep cycles tend to feed into excessive daytime sleepiness.
Many sleep disorder symptoms result from an inability to sleep at night, a condition known as insomnia. Even when people suffering from insomnia manage to fall asleep, they're usually unable to remain asleep for a healthy period of time. Sleeplessness can often be a temporary condition, caused by such factors as a bout of stress, travel fatigue, or a strange reaction to medication. It becomes a serious problem for some people when it turns into a chronic condition.
If an individual is chronically experiencing any combination of sleep disorder symptoms, it's wise to consult a doctor. There are also sleep specialists who may also be able to get to the root of the problem. Having a specialist investigate the issue isn't just important to getting a good night's sleep; it may uncover a much more serious problem that requires treatment.
AS FEATURED ON:
AS FEATURED ON:

By: Sandor Kacso

People suffering from insomnia find it difficult to sleep.

By: Sanjay Deva

Some people with sleep disorders experience abnormal sleep cycles.

By: Sabphoto

People with sleep disorders may fall asleep unexpectedly.

By: bst2012

Children who feel restless during the day might have a sleep disorder.

By: vlorzor

Sleep disorders may manifest as night terrors.

By: Savvapanf Studio ©

Sleep specialists can get to the root of sleep disorders.