What are the Different Pizza Maker Jobs?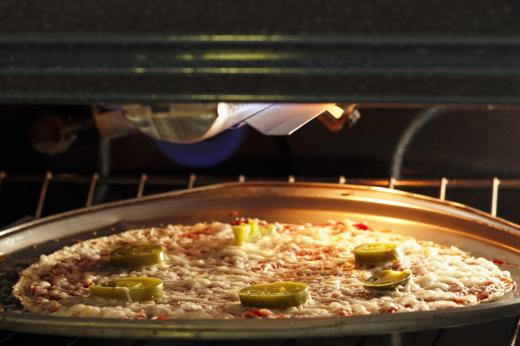 Pizza maker jobs vary depending on the style of restaurant and the type of pizzas it serves. All jobs making pizzas are in the category of food service workers. Most states as well as different countries require a food handler permit. In the United States, the permit is often required by food service employees within two weeks from their date of hire. Pizza maker jobs may be entry level with on-the-job training or they may be for those who are more experienced in making pizzas.
All pizza maker jobs require using an oven especially designed for cooking pizzas. There many different kinds of pizza ovens. A brick oven requires the pizza maker to places pizzas on stone on top of the cooking element. In pizzerias or restaurants with deck type ovens, the pizza maker uses a long-handled wooden paddle to move pizzas in and out of the oven. Pizza making jobs in establishments that use commercial conveyor ovens require the cook to operate a oven that moves pizzas through a conveyor belt over the cooking elements.
Each pizzeria has its own recipes for pizza makers to follow. All pizza maker jobs require the ability to make and stretch the dough for the pizzas, although entry-level workers may start with just spreading tomato sauce and toppings onto already prepared pizza crusts. Most pizzerias have measuring containers for toppings such as meat and vegetables to ensure uniform amounts on each pizza. Entry-level pizza maker jobs usually require a lot of chopping of ingredients to use for toppings. It takes practice and experience to toss and stretch pizza dough to get the required thickness.
Pizza maker jobs preparing New York and Chicago style pizzas are very different. Classic New York pizzas require thin crispy crusts that start out thicker at the edge. Chicago pizza has a consistently thick crust. Deep dish and pan style pizzas are Chicago favorites; the tomato sauce is spread on generously and so are the toppings. A knife and a fork may be required to eat the thick layers of a Chicago style pizza.
In contrast, New York pizzas are meant to be eaten almost anywhere and the slices are often folded over to allow for easy transport. The thin New York crust typically has only a sparse layer of tomato sauce, so it's not that messy to eat on the go. The cheese topping should be generous, but not many other types of toppings are usually added to New York style pizzas.
Food court pizza maker jobs are usually quite different from those in pizzerias. The ovens may be smaller and the pizza maker may also have to do other jobs such as take customer orders. The pizza in shopping center food courts is also more limited in choices of toppings and is often sold by the slice rather than the pie.


By: Serenethos

A pizza in an oven.

By: Kayros Studio

A pepperoni pizza.

By: Stephen Coburn

A man delivers pizza from a local pizzeria.