What are the Different Optometrist Jobs?
The demand for qualified optometrists in the US is increasing due to the number of aging baby boomers needing corrective eyewear and medical treatment for geriatric eye conditions. An optometrist is trained to diagnose and treat vision problems and eye diseases, and can prescribe glasses, contact lenses, and medications to treat conditions such as glaucoma. Optometrist jobs are varied, and they can work in a number of places, including private practices, retail optical stores, hospitals and clinics, and as researchers or consultants.
In the past, most optometrists worked alone in private practices or in group practices. In private and group practices, the optometrist owns or leases a storefront or office space, and usually has a staff that oversees accounting, billing, and patient management. Optometrist jobs in a group practice often require specialist training so that each doctor in the practice can have a different area of expertise, such as pediatric optometry, sports and occupational vision, or ocular disease testing. A group practice may also include an ophthalmologist who can perform surgery based on an optometrist's diagnosis and recommendations.

Today, many optometrists work in large retail chains like LensCrafters. These optometrist jobs can be salaried positions, although some doctors work as independent practitioners and lease an office space from the corporation. While an optometrist in a retail establishment can be involved with general eye health, this type of job usually centers around prescribing corrective eyewear and measuring and fitting contact lenses.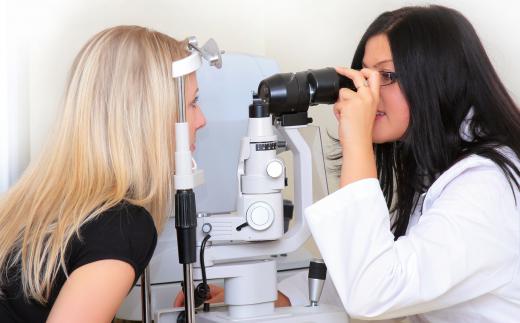 There are also many optometrist jobs in the public sector, such as military hospitals and clinics, public hospitals and clinics, and government health services. These doctors work alongside the other doctors in the clinic, or have contracts as private consultants. Military hospitals and clinics may employ both officer and civilian doctors, and many military optometrists have access to the latest technological equipment as well as a competitive benefits package.
Other optometrists work as researchers or consultants. Some researchers work in a corporate setting, conducting clinical trials on new corrective lenses and pharmaceuticals, while others, particularly those with years of experience or specialty training, might choose to work in academic research and teaching future optometrists and ophthalmologists. Many optometrists with specialized training work as consultants. Some consultants work with companies and deal with vision problems relating to sports or occupational hazards, while others might work in schools or clinics with learning-disabled children or victims of strokes and head traumas.
AS FEATURED ON:
AS FEATURED ON:

By: prosotphoto

A pair of eyeglasses.

By: daniel rajszczak

An optometrist examines a patient's eyes.

By: ruigsantos

An optometrist in a retail shop often fits contact lenses.