What are the Different Options for Edging Tiles?
The most commonly used options for edging tiles are sanded caulking, transition strips, and rope or long tiles. This type of project generally requires an intermediate level of skill in completing home improvement projects. All materials are available at most local home improvement stores, though contractors who specialize in tiling may complete the work as well.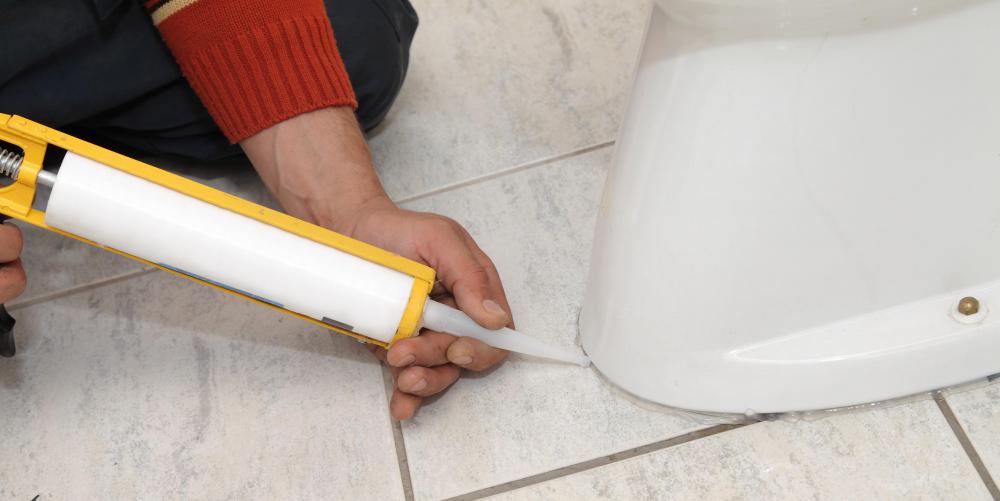 Tiling is an excellent choice for a variety of home projects. It may be used as flooring, around fireplaces, and on walls. Tile may be found in any part of the home, and is most frequently used in kitchens, bathrooms, and entryways.
The material used for edging tiles will typically depend on the surface against which the tiles are joined. This surface may be carpet, hardwood, drywall, metal, or porcelain, depending on the location. Most projects will require caulk or grout, and a transition material for completion.
Tile should generally be adhered to a sturdy surface that can support a large amount of weight. These supplies are available in variety of mediums, the most popular being ceramic, slate, and granite. Backing surfaces can be heavy-duty backer board designed specifically for tiling projects, or cement backer boards. Both items can be purchased at local home improvement or hardware stores.
To transition to a new surface, begin by edging tiles with sanded caulking. This creates the appearance of grout while providing the flexibility of rubber caulking. It will allow tiles and adjacent surfaces to shift during temperature changes without cracking or applying stress to either material. This type of caulk can be purchased in colors that match the grout used between tile joints.
When the project area ends in a horizontal surface — such as a bathtub, counter top, wall, or floor — sanded caulking may be the only material required for edging tiles. Areas where wall and floor come together may be covered by a baseboard, which are typically made of wood or composite materials. These may be attached directly to the tile using liquid nails, or to the wall using facing nails. Gaps between the tile and baseboard can be filled with additional caulk.
Tiled areas that butt against different flooring materials often require a transition strip. These are generally made of metal, wood, or a composite material. Check the levels of the two flooring areas, at eye level, to see if one side rests higher than the other. Transition strips, often found in the flooring section of stores, may be purchased for two floors at the same height, or at an inclined plane for two floors of differing heights. They may be tacked into the non-tiled flooring using screws or nails, depending on the composition of the strip.
Rope and long tiles are both excellent choices for edging tiles used in wall projects. Wall tiles are typically found in kitchens, as the back-splash area between counter top and cabinet, and along bathroom walls, including shower areas. Rope tiles are long, thin pieces that form a rounded mold at the center. They typically measure less than one inch (2.5 centimeters) in width. These may be secured to the wall in an identical manner to the flat tiles, and standard grout can be used between the joints.
Long tiles may be flat or include a rounded edge. Choose tiles in a different shade from those used in the main project, or with a design that compliments the overall color scheme, to create a striking contrast within border areas. If a heavy-duty backer board was installed directly over drywall, the tile may be 1/4-inch (0.6 centimeters) higher than the surrounding wall. Use long pieces with a rounded side for edging tiles in these circumstances, allowing the rounded edge to rest flat against the drywall. Standard grout may be used between the joints.