What are the Different Myopia Causes?
Myopia, otherwise known as nearsightedness, is when a person has difficulty seeing objects at a distance, due to having a longer eyeball or a more curved cornea. There are several myopia causes, the two most common are heredity and environmental factors. More rare myopia causes are other eye disorders such as keratoconus or cataracts, sudden development of nearsightedness due to other illness like diabetes or continued growth of the back of the eyeball in adulthood, called pathological myopia.
Myopia is the result of light and images not focusing properly as they enter the eye, instead of focusing on the retina where they belong, they focus in front of it. This can be caused by the shape of the cornea, or the lens in front of the eye having too much curve, directing the light to the incorrect spot. It can also happen when the shape of a person's eyeball is longer than normal, causing the retina to be further back than it should be. In both cases, the light is focused in front of the retina instead of on it, resulting in blurred images.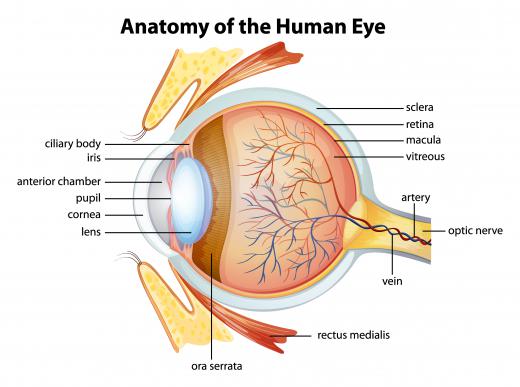 The most common of the myopia causes is heredity. Nearsightedness is most often diagnosed in childhood, during the school age years. Children of parents who have myopia — and particularly those from parents who are nearsighted — are much more likely to develop it. The percentage of myopic children with no family history of the problem is extremely low.
Often in conjunction with heredity, another of the myopia causes is environmental factors related to how the eyes are often used. There is quite a bit of evidence that shows that people who spend a lot of time on activities that require the eyes to focus on close objects, such as reading or computer use, are more likely to develop myopia. It is thought that long periods of time focusing close-up can actually cause subtle changes in the eyeball's shape that become permanent over time. This could account for the fact that myopia most often develops once a child begins formal education and these activities become more common.
The other myopia causes are far less common. One of them is called pathological myopia, which means the back of the eyeball lengthens after reaching a normal adult size causing rapid, progressively worsening, vision changes that could eventually result in blindness. Another myopia cause is when the vision changes are caused by a separate condition such as uncontrolled diabetes or certain nervous system disorders. This is called psuedomyopia and often improves once the condition causing it is treated.
Secondary myopia is when myopia results from other conditions that affect the eyes. It can be caused by other eye disorders like cataracts, or a condition called keratoconus where the cornea gradually changes shape. It can also be caused as a result of premature birth. Depending on the cause secondary myopia can improve or can remain permanently.
AS FEATURED ON:
AS FEATURED ON:

By: blueringmedia

Myopia may be caused by a person's eyeball stretching too long from front to back, or from the cornea being more curved than normal.

By: Subbotina Anna

Myopia causes a person to have difficulty seeing objects at a distance.

By: bellemedia

Those who are nearsighted can see nearby objects but things that are far away appear blurry.

By: JackF

Secondary myopia may be caused by cataracts.

By: Mat Hayward

Cataracts is a rare cause of myopia.

By: Voyagerix

Secondary myopia is when other conditions affect the eyes.