What are the Different Kinds of Mobility Products?
Mobility products are essential elements for helping the elderly or infirm maintain an independent lifestyle. As technology is constantly evolving, the styles and capabilities of mobility products are ever growing. Examples of popular mobility aids include manual and electric wheelchairs, mobility scooters, stair lifts, guide dogs, and ramps.
For those with mobility disabilities, a wheelchair can be of immense benefit, offering an easy way to get around both in- and outdoors. Manual wheelchairs can be purchased at affordable prices and are available for a variety of body types and conditions. Standard manual chairs typically weigh between 35 and 44 pounds (about 16 kg to 20 kg), though lightweight chairs—weighing in between 29 and 34 pounds (roughly 13 to 15.5 kg)—are widely obtainable. Manual wheelchairs for larger individuals, children and young adults, and models specifically designed for the bathroom are also on the market. The sports-minded person can get good use out of a manual court wheelchair, which is made for gliding across basketball courts and similar surfaces, or a handcycle, which works like a bicycle but is totally powered by the hands.
An electric wheelchair is another option for those with mobility issues. Directed by hand controls, these chairs are powered by batteries and come in an assortment of styles. Some models are designed strictly for indoor use, others only for outdoors, and certain models can be used in both environments. Folding and portable electric chairs as well as chairs that can accommodate more weight, are also available. Rechargeable wheelchair batteries also are becoming more and more common as the world becomes "greener."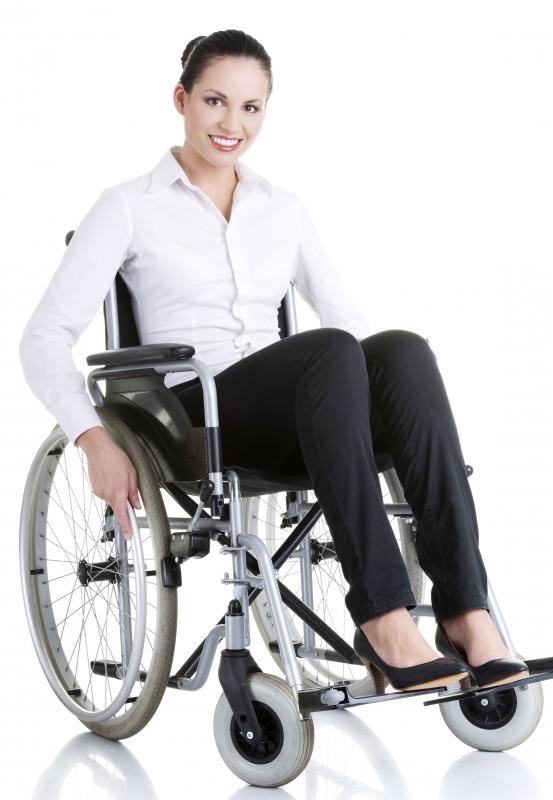 Another common mobility product is the mobility scooter. The popularity of scooters has surged in recent years, and as a result, manufacturers offer an array of styles, colors, and options. Scooters are available for both indoor and outdoor use as well as for recreation. Though they can be heavy, commonly weighing more than 100 pounds (about 45.5 kg), lighter weight and more easily portable units are also available. Like electric wheelchairs, mobility scooters are powered by batteries.
For those having trouble climbing stairs, a stair lift may be a good mobility product to help navigate the difficult area. Attached to side of the wall alongside the stairs, a stair lift offers a comfortable place to sit while ascending or descending the steps in a multilevel home. Most units run on electricity and plug directly into the wall.
Mobility ramps are another common choice on the list of popular mobility products. Ramps allow a person to bypass stairs with ease, cross uneven or unwieldy thresholds, and even get in and out of the shower. Specifically designed ramps for wheelchairs are available, and there are also portable ramps that can be folded up and taken along for use anywhere.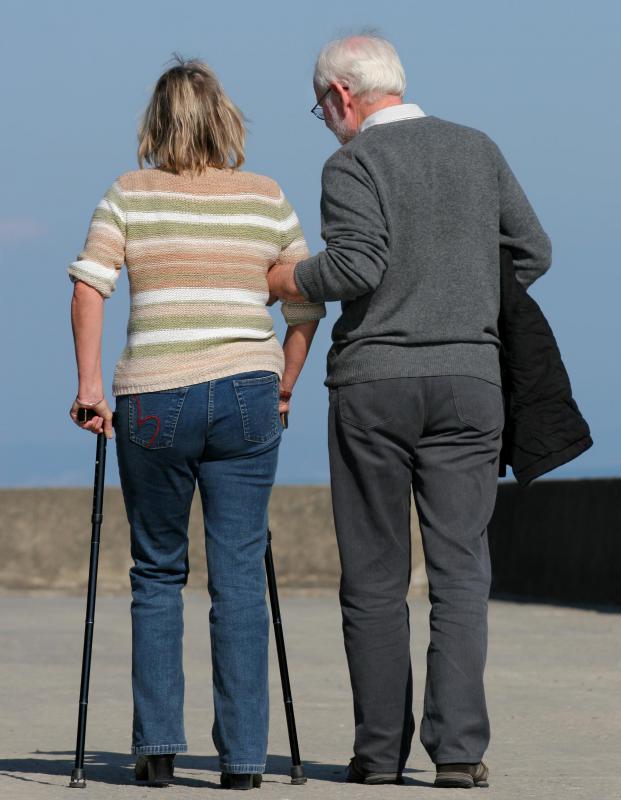 Guide dogs, or seeing eye dogs, are another common choice for mobility assistance. Specially trained and highly professional, these loyal canines help the elderly, visually impaired, and others navigate the world around them. Guide dogs provide loving companionship and devotion while aiding individuals in sustaining their personal freedom and autonomy.
By: Vladimir Voronin

Canes are one type of mobility product.

By: Boris Djuranovic

Guide dogs are a popular form of mobility assistance.

By: Piotr Marcinski

Mobility products include wheelchairs.

By: babi00

Stair lifts make it possible for people with disabilities to access upper floors.

By: marilyn barbone

Forearm crutches are often used by people who need extra help with balance and support.

By: BildPix.de

Portable ramps can be used in some situations where permanent ramps are not available.