What are the Different Kinds of Cross Stitch Supplies?
The different kinds of cross stitch supplies include cross stitch fabric, hoops, embroidery floss or thread, cross stitch patterns and leaflets, cross stitch needles and floss holders. Some stitchers enjoy using specialty cross stitch supplies such as magnifiers, chart holders and thread binders. These specialty items are not necessary to complete a project, though.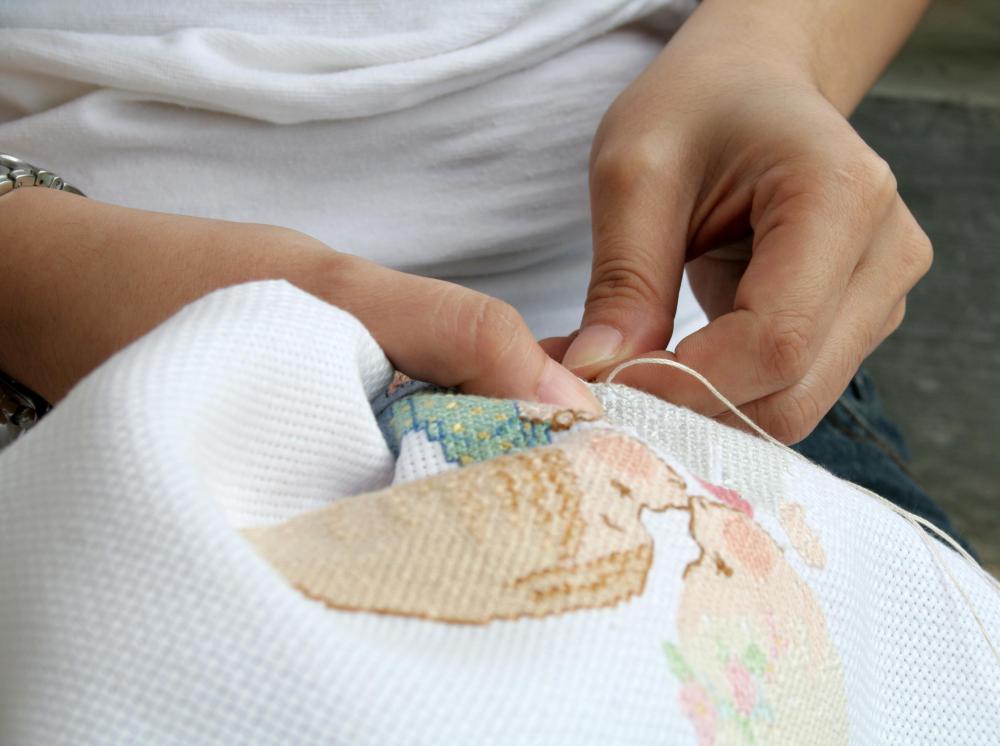 Pattern leaflets and books are among the most fundamental cross stitch supplies a needle-crafter can own. Every cross stitch project starts with a pattern from a book, leaflet or magazine. Cross stitch patterns feature a grid filled with symbols, with each symbol representing a single stitch. Cross stitch patterns are available in an array of designs and skill levels, and they include lists of the specific threads and fabric needed to complete a project.
Cross stitch fabric ranges from very fine linen to coarse, sturdy cotton. Fabrics for cross stitch are woven and have a clearly defined grid pattern of threads running horizontally and vertically. These threads form a series of tiny squares on the fabric. Each square can hold one cross stitch "X". The fabric that is used will affect the size, detail level and difficulty of the finished project.
Cotton cross stitch fabrics are considered ideal for beginners and hold between six and 18 stitches per inch (2.5 cm). Fine linen cross stitch fabric with 28 or 32 tiny squares per inch (2.5 cm) is better for more advanced stitchers. A cross stitch fabric should be chosen based on the pattern that the stitcher wants to make and his or her level of expertise.
Cross stitch thread comes in a huge range of colors and is also referred to as embroidery floss. The most commonly used type of cross stitch thread is cotton, but threads can be made from silk, linen, rayon, wool or novelty fibers. Cross stitch supply stores will stock floss holders designed to keep threads handy and organized.
Cross stitch hoops are used to stretch the fabric and hold it in place while the project is being stitched. Hoops come in different sizes, can be made from wood or plastic and are occasionally included in cross stitch kits. Hoops can be found anywhere cross stitch supplies are sold. Cross stitch hoops usually are circular, but oval and novelty shapes are available as well.
Cross stitch needles are different from hand sewing needles. Most cross stitch patterns are completed with a double strand of thread, so the hole on the needle needs to be large enough to thread multiple strands easily. The tip of a cross stitch needle is blunt instead of sharp, allowing it to pass easily through the fabric without damaging the woven threads.
Cross stitching supplies include fabric, embroidery thread, needles, a hoop, and patterns.

Cross stitch patterns may be found in books or magazines.

Cross stitch hoops hold material flat.

Embroidery floss is available in a wide variety of colors.

Pieces of fabric may be used in cross stitch projects.