What are the Different Groundskeeper Jobs?
Those seeking to get into groundskeeping as a career have many different options. Commercial groundskeepers look after commercial properties such as apartment complexes, medical complexes, shopping centers, and even industrial park complexes. Sports field groundskeepers will make sure the field of play is adequately maintained according to league standards. Golf course groundskeepers are likewise responsible for making sure the fairways, greens, and rough are kept according to a certain standard.
Those interested in groundskeeper jobs should have an interest in landscaping and botany. While a formal education is not necessary, those who have some educational background in the field will be more successful in applying for higher-paying and highly-skilled jobs. This is especially true for golf course and sports field groundskeeper jobs, simply because these positions are so competitive, and usually pay the best.
Groundkeepers who work around commercial properties are usually responsible for tasks such as mowing, fertilizing, pruning, and watering. If there are any water features, these also typically fall under the supervision of the groundskeeper. Those working these types of groundskeeper jobs are expected to maintain the grounds with little supervision. Though they may receive instructions on problem areas from time to time, or on the specific preferences of the property owner, many work relatively independently to make the grounds attractive. The groundskeeper may also be responsible for long-term planning, including plant choices and landscape features.
While commercial groundskeeper jobs require some general knowledge about many different issues, those involved in keeping up athletic fields or golf courses will need specific knowledge, especially about grasses. In some cases, a golf course will have a certain species of grass for fairways and another for greens. The rough may be made up of several different species. The challenge is in knowing how each of these species will react to fertilizer and mowing, and in adapting procedures accordingly.
Groundskeeper jobs at sports fields often require working with only one species of grass. The challenge in this case is maintaining a healthy grass even under heavy in-season use. Some events may require taking the sod up, and then putting new sod down immediately after an event. In these cases, the groundskeepers must be able to work well under pressure, and understand what new sod requires in order to take firm root. Furthermore, these groundskeepers are responsible for marking the field of play accurately.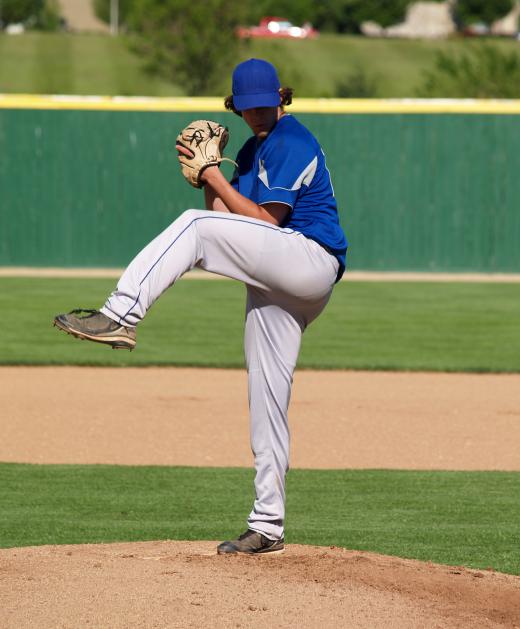 In some cases, groundskeeper jobs are handled alone, as is often the case with small commercial properties. Golf courses, sports complexes, and larger properties may have an entire staff of groundskeepers, each with varying levels of responsibilities, or specialization. The head groundskeeper is typically the person with the most experience or combination of education and experience. Head groundskeeper jobs, therefore, typically pay the most.
AS FEATURED ON:
AS FEATURED ON:

Groundskeepers usually maintain water features.

A groundskeeper fertilizing a lawn.

By: Sergey Galushko

A plant growing.

By: cfarmer

A groundskeeper keeps a baseball diamond in good shape.

By: Horticulture

Mowing the lawn is a typical job requirement of a groundskeeper.

By: WavebreakmediaMicro

Golf courses have some of the higher-paying groundskeeping jobs.