What are the Different General Office Clerk Jobs?
General office clerk jobs can be found in many places of employment, from large corporations to local, family-owned businesses. Though they may have some responsibilities in common, the typical duties of a general office clerk can vary according to one's employer. Such clerks are also commonly referred to by many other names, including administrative assistants, office managers, office assistants, receptionists, and secretaries, to name just a few. Some also have highly specialized duties, while others simply oversee the general functioning of an office. Their salaries and working conditions can also vary widely, according to factors such as location and level of experience.
Some general office clerk jobs require the employee to interact directly with the public. The person might work in a main reception area, greeting customers or clients. People with this role often answer the telephone, as well as communicate by fax and email. They frequently take messages and set up appointments and meetings for other staff members. In addition, they often deal with mail and other packages.
Most jobs as a general office clerk require some expertise using a computer, whether for general document creation, data entry, or more complicated tasks. Typically, office clerks also know how to operate photocopiers, fax machines, and other office equipment. Some general office clerk jobs might require a focus on financial and bookkeeping duties, thus requiring some additional education or experience. An office clerk might also be asked to proofread and edit important documents, a skill that may require some specific training. Eventually, his or her role or job description might change as he or she gains more experience.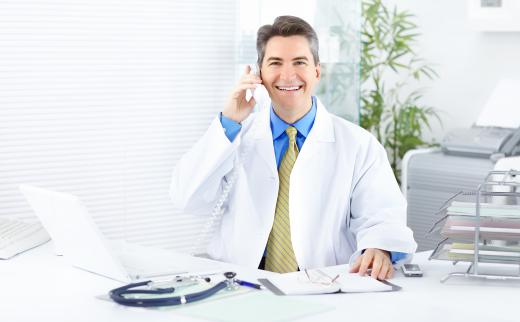 In many cases, a high school diploma or its equivalent is sufficient to obtain an entry-level position as a general office clerk. Employers often prefer to hire candidates who demonstrate at least some general office experience. In most instances, however, new employees have various on-the-job training opportunities available to them. General office clerk jobs can be permanent or temporary positions, and a number of clerks work only part time.
The projected growth of general office clerk jobs is about average, and their salary rates can vary widely. Some factors that might determine salary are one's background and experience, as well as the particular location of the job. An entry-level office clerk might earn a low salary at first, but having a strong background and relevant experience could result in an increase in wages. Eventually, those with higher levels of experience often supervise other employees, which can also lead to higher pay. One's location, or type of employer, could also affect the rate of pay. A medical doctor's office, for example, may pay significantly more than that of a social services provider.
AS FEATURED ON:
AS FEATURED ON:

By: lightpoet

A general office clerk must know how to operate a photocopier.

By: Kurhan

A medical office clerk may be tasked with keeping the doctor's schedule and managing his office hours.

By: Rob Byron

An office clerk should know how to use a fax machine.

By: JohnKwan

General office clerks can help professionals organize and schedule meetings.

By: Tyler Olson

Many general office clerks work directly with the public, in addition to a number of behind-the-scenes duties.