What are the Different Food Poisoning Signs?
Food poisoning is a series of symptoms that arise as a result of eating bacteria-contaminated food. There are many types of bacteria contamination that can cause food poisoning, including E. coli, Salmonella, and Staphylococcus. Poisoning often occurs if food is improperly handled, undercooked, or left out for too long; so one of the best means of avoiding the following food poisoning signs is to ensure that food is cooked and handled properly.
Within several hours of ingesting contaminated food, food poisoning signs may begin to appear. The most common symptoms are stomach-related, including nausea, stomach pain, gas, or a general feeling of stomach discomfort. Often, vomiting and diarrhea occur shortly after the first symptoms. All of these symptoms may last several days and will usually resolve on their own. Careful monitoring of food poisoning is often recommended, however, as some cases of food poisoning may include additional symptoms, and can even result in serious or fatal complications.
Other common signs of food poisoning include muscle aches or weakness, numbness, or a tingling sensation in the hands and feet. In some cases, a low fever may appear, but usually lasts no more than 24 hours. Some experts recommend calling a doctor or healthcare provider if vomiting or fever last longer than a day, or other symptoms develop.
The appearance of certain food poisoning signs may give clues to the specific bacteria causing illness. Botulism typically includes vision problems, such as blurring and double vision. Large amounts of blood in stool may indicate salmonella or E. coli. Vision problems, confusion, neurological symptoms, paralysis, or considerable blood in stool are all considered serious symptoms that may warrant immediate medical attention.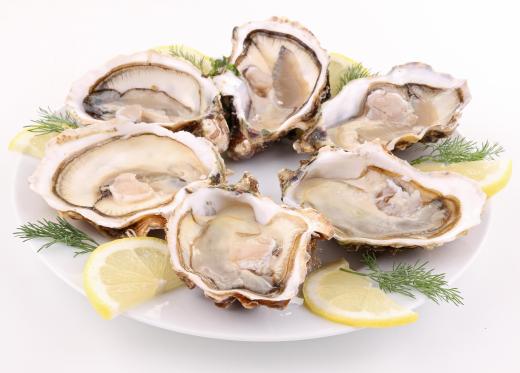 If food poisoning symptoms appear following the consumption of fish or shellfish, special care should be taken. Fish and shellfish may contain toxins that cannot be eliminated through correct cooking or proper handling. If food poisoning signs — especially neurological symptoms, numbness, or paralysis — occur after consuming seafood, some experts suggest contacting a doctor.
Many cases of food poisoning are mild and can be easily treated at home. Because of fluid loss due to vomiting and diarrhea, care should be taken to avoid dehydration. Some people recommend drinking only water at first, but others suggest sports drinks with added electrolytes in order to replace trace minerals in the body. To reduce nausea and stomach symptoms, over-the-counter drugs can be helpful in some cases. Food should be reintroduced gradually, beginning with plain, simple food such as soda crackers or toast.
AS FEATURED ON:
AS FEATURED ON:

By: travis manley

Sports drinks, which can help replenish electrolytes in those with food poisoning.

By: M.studio

Numbness or paralysis after eating oysters or other shellfish can indicate a serious problem.

By: Claudia Nagel

Stomach pain may be a sign of food poisoning.

By: Bill

Often contracted from raw chicken, salmonellosis usually heals on its own within four to seven days.

By: Tatty

Vomiting may be an indicator of food poisoning.

By: Quanthem

After food poisoning, it's best to begin eating simple foods like crackers.