What Are the Different Costs of Television Advertising?
The two main costs of television (TV) advertising are producing and air time. Most of the different expenses involved in a TV advertising campaign fall into one of these two categories. A production company is typically hired by either an ad agency or directly by the manufacturer or distributor to create the television commercial by hiring and coordinating a large team of creative and technical people. The costs of television advertising associated with broadcasting, or airing, the commercial are paid to the network by the advertisers.
National TV broadcast networks earn billions of dollars in advertising revenues each year. This is due to the fact that broadcast costs of television advertising can be $1 million US Dollars (USD) or more for a 30-second commercial run during a particular show with a huge audience. For instance, 30-second ad spots broadcast during the Super Bowl can easily cost several million USD each. The price charged by the networks to advertisers per commercial spot is based on the estimated viewership.
A half-hour situation comedy (sitcom) has 22 minutes of show and eight minutes of commercials. This means that typically there are 16 spots available of 30 seconds each per sitcom. If the show has the top ratings for its time slot, this means that it is estimated that a lot of people are watching it and the costs of television advertising during this program is going to be high. Although this may or may not be true when the show actually airs, the rate for the slots would still be high. Since national broadcasters have the capacity to reach a large viewership, they stand to make the most money in TV advertising revenues.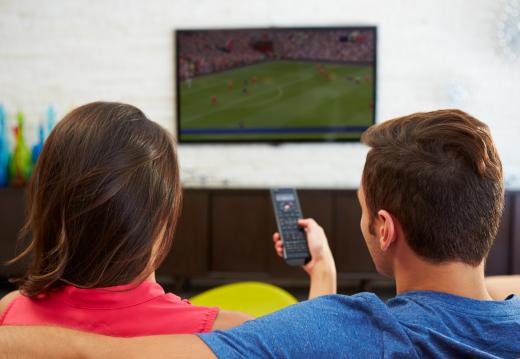 The producers who create commercials for local and regional broadcasts also must charge a lot less than production companies making national TV ads. The exact costs of television advertising also depend on the quality of the film equipment and how elaborate the shoots are. For instance, many national commercials feature extensive set decoration and/or outdoor location shoots, while a local video producer may have just the store owner speaking on camera while standing outside or inside his shop in a TV ad.
Some of the different costs that are often part of a larger television commercial production are for a director, assistant director, actors, art director, copywriters, film crew, props manager, makeup artist, hair stylist and wardrobe consultant. Even though the ad spot is only 30 seconds in length, the large team works together for as long as necessary to produce a quality commercial. Video production companies as well as local TV stations usually charge a package or project rate rather than how long the piece takes to film.
AS FEATURED ON:
AS FEATURED ON:

By: MarcoGusella.it

Production and air time are the two primary costs of television advertising.

By: Monkey Business

Producers of ads running on local stations must charge less than companies creating ads running on national TV.