What are the Different Bee Pollen Side Effects?
Bee pollen is a well-known natural remedy and a common ingredient in many types of nutritional supplements. Despite its popularity, some health care professionals have expressed skepticism about its efficacy as well as concern about potential bee pollen side effects. While some of these side effects, such as stomach ache or nausea, are relatively mild and easily treated, others are more serious, requiring emergency medical treatment and even hospitalization. The most common side effects of bee pollen are allergic reactions characterized by stuffy nose, facial swelling, and difficulty breathing. Many experts caution against the use of bee pollen during pregnancy, as it is considered a uterine stimulant that may bring on miscarriage or premature labor.
Companies that sell supplements made up mainly or partially of bee pollen often claim that bee pollen can be used to provide energy, treat stomach problems, and desensitize users against common allergens such as ragweed. None of these claims have been scientifically proved, and in some cases bee pollen side effects are identical to the symptoms that the user is trying to treat. While it is difficult to prove or disprove claims that the pollen gives a person a greater sense of energy or well-being, health care professionals have strongly questioned the claims of bee pollen marketers that bee pollen can help prevent allergy symptoms. According to skeptics, taking a known allergen orally in hopes of desensitizing oneself to similar allergens is not particularly effective and may do more harm than good.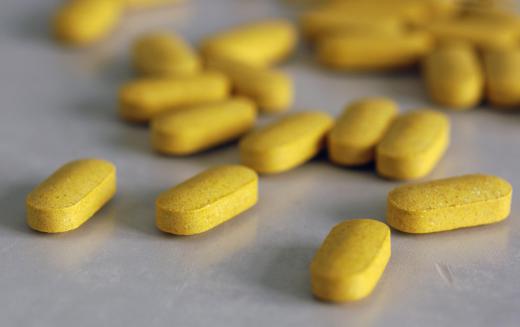 While rare, anaphylactic shock, acute hepatitis, and renal failure have been reported in people using bee pollen. If an individual is already aware that he or she suffers from pollen allergies, caution in using bee pollen is probably a good idea, and the person should check with a doctor before using any remedy that includes bee pollen. Since bee pollen is so commonly used in many health products, including nutritional bars, drinks, and lotions, people who are concerned about bee pollen side effects would do well to read ingredient labels carefully. Symptoms of a bee pollen allergic reaction, such as an itchy throat, wheezing, or swelling, should be monitored closely. If they become severe or the individual suffering from bee pollen side effects has known allergies, emergency medical attention should be sought immediately.
AS FEATURED ON:
AS FEATURED ON:

By: Anthony Hall

Bee pollen can be consumed as a supplement in pill form.

By: Julija Sapic

Proponents of bee pollen suggest that it can be used to treat stomach problems.

By: jovanmandic

People with pollen allergies should be extremely cautious when taking bee pollen supplements.

By: Trish23

Bee pollen is considered by some to be a uterine stimulant, and can result in miscarriage or premature labor.

By: ISO K° - photography

Wheezing and itchy throat are common bee pollen side effects.