What are the Different Banquet Server Jobs?
Those that hold banquet server jobs juggle a variety of responsibilities during each shift. When applying for a job as a banquet server, men and women should keep in mind that while customer service is key, many other skills are also required. Like most restaurant servers, banquet servers are to be attentive to the guests' needs without disturbing them. These servers must be both physically and mentally adept during, before, and after the meal.
Banquet server jobs can be found in a variety of institutions including large restaurants and hotels. Most often, however, these positions can be found at catering halls, convention centers, and private clubs. These types of facilities host functions of all sizes, though the most popular are business gatherings, weddings, and private parties. Banquet server jobs may be available for those people seeking either day or evening positions, as well as part- or full-time jobs.
Because banquet facilities cater functions at breakfast, lunch, and dinner, servers must generally be available a few hours before and after each event. Banquet server jobs consist of the setting up and tearing down of functions. Due to the timing variations of each event, most banquet servers don't have regular "nine-to-five" schedules. Uniform requirements may be stringent, as well, as many banquet halls require tuxedo-like outfits.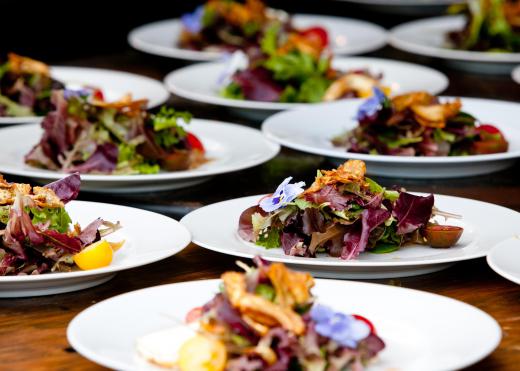 Servers do more than serve food at banquets. Before the party arrives, servers are busy preparing place settings, folding napkins, setting silverware and dish displays, arranging centerpieces, and setting out water or coffee if needed. Good servers also study that function's particular menu so as to be knowledgeable if a guest asks questions pertaining to ingredients and preparation. Additionally, most banquet server jobs require teamwork among employees, as many servers tag-team tables.
Throughout the meal, servers should pay attention to the guests. If someone needs a beverage refill or a plate taken away, it is the server's duty. If the server needs help, it is his responsibility to ask a team member or manager for assistance.
Each banquet facility requires something unique of its employees. For example, a resort specializing in breakfast served at its catering hall may tout the fresh-squeezed orange juice and fabulous table displays. The banquet servers may need to squeeze those fresh oranges as well as set up the table displays before the guests arrive. Often in cases such as these, the server must be on location before sunrise.
Likewise, once a late-night wedding party wraps up, servers need to clean up. Clean up generally consists of clearing any leftover dishes from the tables, removing the linens and centerpieces, wiping things down, and sweeping or vacuuming. At some facilities, banquet server jobs require servers to do pre- set-up tasks for the next event.
During the banquet, banquet servers should be polite to the guests. A server should respectfully answer any questions and, if need be, find out the answer from a manager or chef. He should also follow local and national policies and regulations regarding health codes and serving liquor. Banquet server jobs require those who hold the position to check identification cards to ensure that people ordering liquor are of the appropriate age.


By: Tyler Olson

Banquet servers may find work at large restaurants.

By: qingwa

Most banquet halls don't operate on a regular 9-to-5 schedule.

By: Kablonk Micro

Banquet servers need to be articulate as well as responsive to diners' needs.

By: Eric Limon

Banquet servers work to get food out of a kitchen as fast as possible during service.

By: sattriani

Banquet servers may work to make sure buffets are stocked with food.