What Are the Best Tips for Throwing a Vegas-Themed Party?
There are many tips that can be utilized when planning a Vegas-themed party. When throwing a party of this type, it is a good idea to consider factors such as decorations, food, music, and entertainment for the guests. Throwing an elaborate party may be expensive, but it is possible to plan a party that will not cost a considerable amount of money.
Gambling games may be an integral component of a Vegas-themed party because Las Vegas is well known for its casinos. One party idea is to obtain a large quantity of poker chips that represent money. The chips can be used for casino-style party games. Some people like to pass out free chips at the entrance to the party so each guest can use the fake currency to purchase drinks or food. Another tip is to let guests gather chips throughout the duration of a party and exchange them for prizes or party favors before they go home.
Decorations can be quite important when planning a Vegas-themed party. Purchasing neon lights can add a Vegas feel to the party. If neon lights are too expensive, it may be possible to re-create the general look using similar items, such as colored fluorescent lights, colored light bulbs, or flashing lights. Dim lighting may be appropriate as well because many casinos have bright lights outside and low internal lighting. Additionally, dice and playing cards may be used for decorative purposes and are inexpensive to purchase.
Some people like to look for local party supply rental companies. It may be possible to rent a slot machine, a roulette wheel, a craps table, or other common casino items. If items cannot be found for rental, it may be worth purchasing the items, but they may be quite expensive. Casino game tables also can be created by draping a green material over a table to simulate the green felt used in real casinos. Hiring a dealer or asking a friend to play the role may add to the realism as well.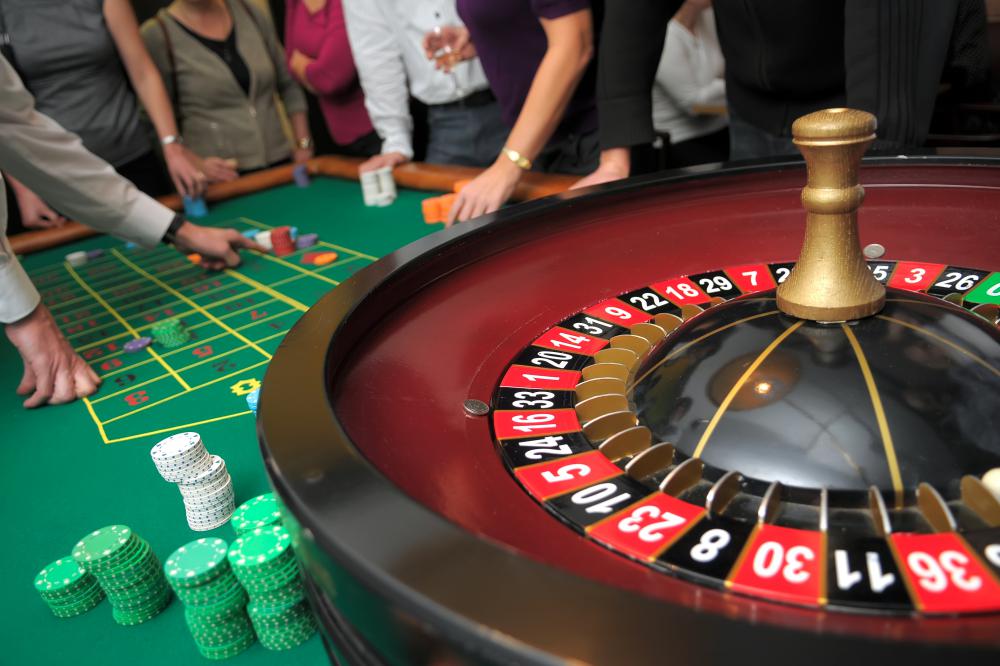 Serving buffet-style food may be appropriate because buffets are common in Las Vegas. Theme parties for adults sometime feature the presence of alcoholic beverages. Setting up a bar and hiring a bartender may be fitting. Even if no alcohol is served at the Vegas-themed party, it could be fun to use martini or cocktail glasses to serve the drinks. To save money, it may be possible to ask guests to bring a buffet-type food item or beverages to the party.
Many singers, such as Frank Sinatra, Wayne Newton, and Elvis Presley, are associated with Las Vegas, and it may be nice to play music by these entertainers at the party. Other people like to play vintage jazz and swing music to re-create an old-time Vegas feel. Additionally, guests at a Vegas-themed party may appreciate a re-created Vegas act, such as an Elvis impersonator.
Martinis -- and other drinks served in martini glasses -- are a good choice for Vegas-themed parties.

Buffets are popular in Las Vegas, making them a fun dining option for a Vegas-themed party.

Renting a craps table is an option for a Vegas-themed party.

A roulette wheel is a popular addition to Vegas-themed parties.

Pictures of the Las Vegas skyline could add to any Vegas theme.