What Are the Best Tips for Planting Butternut Squash?
Butternut squash, known by its species name Cucurbita mopschata, is a winter squash. Within the species there are different cultivars, but growing tips generally are the same. Like other winter squash, butternut squash should be planted in spring for a fall harvest. When planting butternut squash, soil temperature, soil quality, garden space, and growing conditions are important for producing a healthy crop.
This type of squash grows best in deep, fertile soil with high nutrient levels and good drainage. One of the best tips for planting butternut squash is starting with good soil. The garden bed should be prepared before planting with seasoned manure or well rotted compost. A layer 2 to 4 inches (about 5 to 10 cm) thick can be spread over the garden bed and dug into the top 8 to 12 inches (about 20 to 30 cm) of the soil.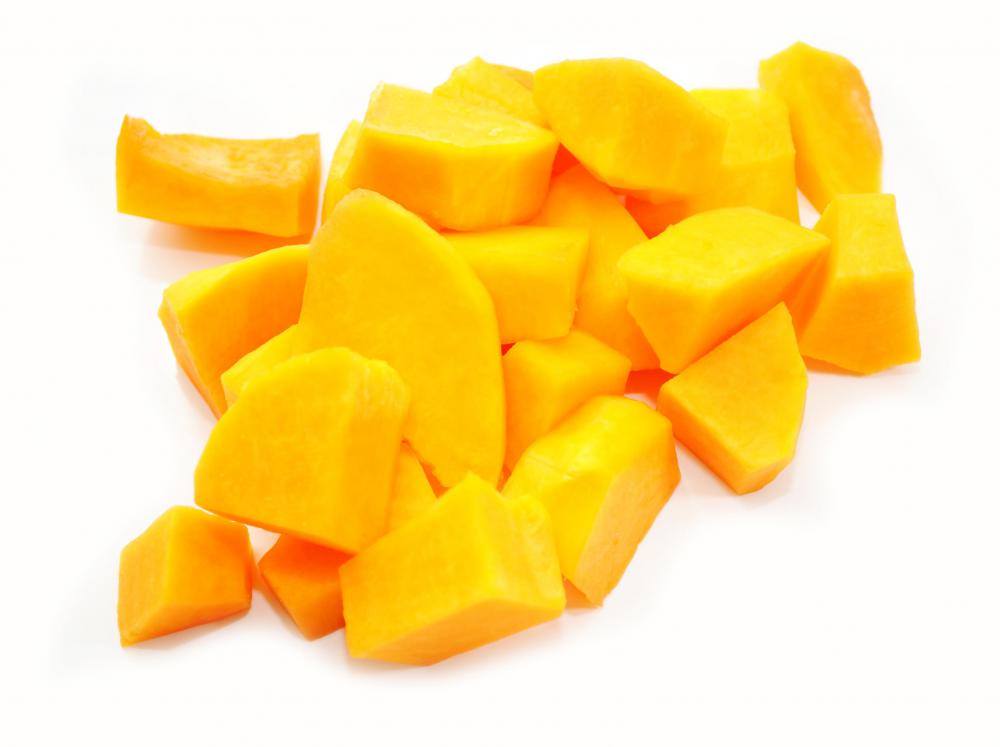 Hills created in the garden bed can provide butternut squash with good drainage and a little extra room to grow. The hills also warm up sooner in the spring and can be planted earlier. Planting hills should be created out of the soil amended with compost or manure and spaced 4 to 5 feet (about 1.2 to 1.5 m) apart.
A good tip for planting butternut squash seeds is to plant the seeds directly in the garden, as squash seedlings resent root disturbance during transplanting. The seeds germinate in warm soil between 65 and 105°F (about 18 to 40°C), with the optimum temperature range between 75 and 95°F (about 24 to 35°C). A soil thermometer can be inserted into the top 4 inches (about 10 cm) of the soil to determine soil temperature.
The garden bed should be kept free of weeds when planting butternut squash. The plants have a shallow root system that easily can be disturbed by weeding tools inserted too deep into the soil. The weeds should be pulled by hand or with a shallow hoe throughout the growing season. Weeds compete for nutrients and moisture and can weaken the crop if allowed to spread.
The flowers also must be pollinated for the fruits to develop. Bees are the primary pollinators of squash plants and are susceptible to insecticides and pesticides. As such, chemical insect control should be avoided, or if necessary, applied late in the evening.
After planting butternut squash from seed, the plants require a growing period of 80 to 100 days of warm, frost-free weather. The fruits can be harvested in the fall when the rinds harden and turn a deep yellow color. Butternut squash is harvested by cutting the fruit from the vine 1 to 2 inches (about 2.5 to 5 cm) above the top of the stem.