What are the Best Tips for Outdoor Adventure Travel?
The best tips for outdoor adventure travel depends largely on what the traveler plans on doing in the great outdoors. Some tips, such as packing lightly and getting travel insurance, are typically helpful no matter what the active vacation involves, however. Frequently, it is also important to keep updated on the weather of the region the traveler plans on adventuring in, to pack appropriately, and to avoid common misconceptions; i.e., that the Hawaiian islands of the United States always have comfortable weather. If the traveler is bringing any camera equipment, whether inexpensive or professional, waterproofing the equipment can save once-in-a-lifetime pictures from being ruined.
Outdoor adventure travel may require bringing survival items, such as a water bottle and a global positioning system (GPS), with the traveler. Depending on where the traveler is staying, the rest of his or her items are left at the hotel or camp site, the latter of which being a generally unsafe place to keep anything beyond firewood. Packing only the things necessary to have a safe but fun outdoor travel adventure can help cut down on air travel costs, as well as potential losses due to bad weather or theft. In addition, leaving room in the luggage containers gives the traveler more room to bring souvenirs home.
In addition to packing lightly, the traveler should also take care to pack appropriately by keeping updated on weather changes. There is a big difference between a light sweater and padded ski-style coat; the traveler should be well aware of which one he or she will be using at the vacation spot. It is generally advisable to double-check the weather shortly before leaving in case of sudden rainstorms, blizzards, or tropical storms that might alter plans or cancel the outdoor vacation all together.
Travel insurance is usually a good thing to have when outdoor adventuring outside an area covered by the regular health insurance. Depending on the plan, this type of insurance can cover medical expenses, baggage loss, and emergency evacuation if the region is suddenly dangerous to be in. Sometimes the insurance plan will come with a 24-hour hot-line to call for advice. Travel insurance can be particularly useful if the vacation involves a physical activity that might lead to injuries.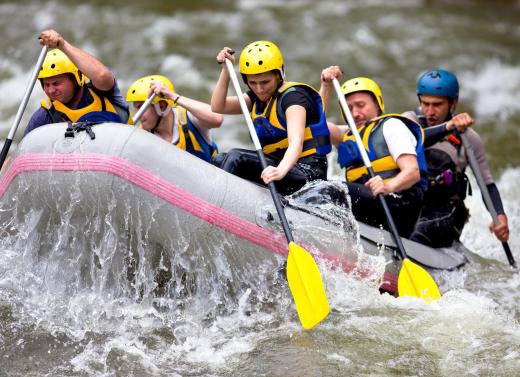 Lastly, cameras are often considered a standard travel accessory to capture the best moments of an outdoor adventure travel vacation. It may be best for the traveler to make sure his or her camera equipment is waterproof, just in case it encounters water during the outdoor adventure travel itinerary. Both disposable waterproof cameras and casings for professional equipment exist, and can generally be ordered online.
AS FEATURED ON:
AS FEATURED ON:

By: magann

A waterfall on the island of Tasmania, a popular destination for adventure travelers.

By: Bryan Busovicki

The Inca Trail, which overlooks the ruins of Machu Picchu, is a popular choice for guided treks.

By: VILevi

Whitewater rafting is popular adventure travel activity.

By: Edsweb

Firewood may be useful during an outdoor adventure.

By: ueuaphoto

Outdoor adventure travel activities may include paragliding.

By: Liv Friis-larsen

Adventure travel may include trips to an exotic beach.

By: david hughes

Many people enjoy long distance cycling trips.

By: varandah

Some travel insurance protects against loss of or damage to baggage during transit.

By: Maridav

Training can prior to travel can decrease the risk of exhaustion during an adventure.

By: micromonkey

A picnic is a great way to enjoy the outdoors.

By: Dusan Kostic

Outdoor adventure travel can include going for a jog on nature trails.

By: vetal1983

Mountain hiking is a popular outdoor adventure travel activity.