What Are the Best Tips for Making Healthy Lasagna?
While traditional lasagna is often high in fat, cholesterol, and sodium and low in fiber and nutrients, there are many changes that can be made to the recipe to create a healthy lasagna. Low-fat varieties of cheese can be used to decrease fat and cholesterol, and egg whites can be substituted for whole eggs. Lean meats can also be used for this purpose, or the lasagna can be made without meat. Adding vegetables such as onions, spinach, or broccoli can add nutrients and fiber, as can using whole wheat noodles. Low- or no-sodium tomato sauces can be used in place of higher sodium varieties to cut salt content, and salt in the recipe can be replaced with spices to add flavor.
Finding ways to reduce fat and cholesterol content is often a part of making a healthy lasagna. Part-skim or non-fat versions of mozzarella, ricotta, or cottage cheese are all good substitutes for their full-fat counterparts. Some cheeses such as Parmesan are already normally lower in fat than other options and add plenty of flavor. For recipes that require eggs, one may choose to use just the egg whites instead. Lean beef, ground turkey, and other lean meats can also make for a lighter dish, or one can simply opt to leave out the meat completely and make a vegetarian lasagna.
Another way to make a healthy lasagna is to add vegetables to the recipe. Some people may prefer to stick with more traditional options such as spinach, onions, or garlic, while others may wish to try less standard choices such as broccoli, butternut squash, or eggplant. Fresh vegetables can be used if they are available, or frozen ones may be substituted; both are high in nutrients, fiber, and flavor.
Using whole wheat pasta can also make lasagna healthier. Typically, the dish contains noodles made from processed white flour, which has little nutritional value. Switching them for the whole wheat type can boost nutrients and fiber content.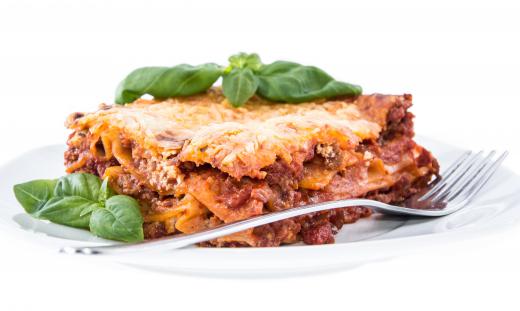 A healthy lasagna recipe often calls for a reduction in sodium, which can be very high in regular recipes. Those who use canned or jarred tomatoes or sauces will want to look for varieties that have little or no sodium added. The amount of salt added to the recipe should also be kept to a minimum; other spices like basil, oregano, and parsley, either dried or fresh, can be used if extra flavor is needed.


By: Barbara Pheby

Basil is a common ingredient in lasagnas.

By: Bert Folsom

Grated Parmesan cheese is often added to lasagnas, and doesn't add much extra fat.

By: Studio Gi

Mozzarella with tomatoes and basil leaves.

By: HandmadePictures

Courgettes, or zucchini, adds flavor to traditional lasagna.

By: Dionisvera

Lasagna can be made with spinach instead of ground beef.

By: xiangdong Li

Vegetables such as butternut squash can be used in a healthy lasagna.

By: ExQuisine

Lean beef can be used to make a lighter lasagna.

By: womue

Using pasta made with wheat or whole wheat can help make lasagna healthier.

By: Goran Bogicevic

Fresh broccoli, peppers, and onions add a nutritional punch to low-fat lasagna.

By: nata777_7

Low- or non-fat cottage cheese can be substituted for ricotta to make lasagna healthier.