What Are the Best Tips for Making Gluten-Free Dressings?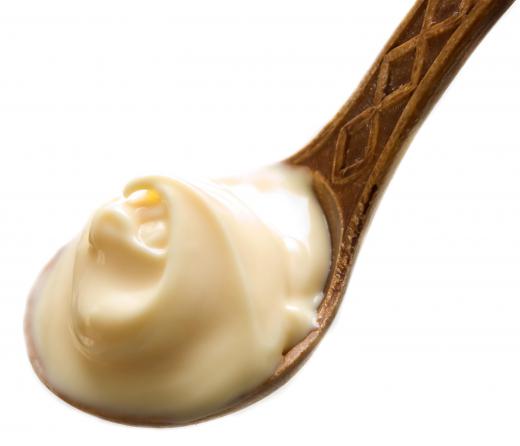 There are numerous ways to make gluten-free dressings that appeal to anyone suffering from a gluten intolerance or celiac disease. Dressings created from mixing gluten-free condiments such as mustard, mayonnaise and other items is a popular way to make simple and quick gluten-free dressings for salads and steaks. Making dressings from scratch are usually more involved, using ingredients such as spices and vegetable broths or other bases, as well as thickeners such as guar gum. All gluten-free dressings must be made with certified gluten-free ingredients to ensure that the final recipe is without any possible allergens related to gluten intolerance.
Busy chefs looking for quick ways to make gluten-free dressings often mix various premade dressings to create a brand new dressing. These different dressings may include salad dressings, condiments such as mustard or barbecue sauce, as well as different oils and vinegars. A homemade gluten-free steak dressing, for example, might contain gluten-free mustard, Worcestershire sauce, gluten-free chicken broth and vinegar. Since these dressings include no grain products, like wheat, the incidence of an allergic reaction to gluten would be rare for individuals suffering from a lower level of gluten intolerance.
Making gluten-free dressings from scratch is more common in gluten-free kitchens, as it helps lessen the risk of gluten contamination with premade, processed dressings and condiments. Using gluten-free chicken broth, usually homemade, is often regarded as a good liquid base for most dressings, as is plain water. For salad dressings, oil and vinegar are the main ingredients, followed by pureed berries, herbs and spices, as well as a gluten-free thickening agent. Most thickening agents in gluten-free dressings include xanthan gum or guar gum, as these thickeners can be used in very small amounts without adding any unwanted taste.
It is important for individuals who have a high level of sensitivity to the effects of gluten to read the labels of every processed dressing or food item before using it to make a homemade dressing. Those that are not certified to be gluten-free by an independent certification council could have been processed with grains such as wheat or rye. These grains contain gluten, and can contaminate any of the ingredients in the store-bought dressings. Those with celiac disease, or those with a full-blown gluten intolerance, cannot consume these items and must find alternative condiments and dressings to use in their gluten-free dressing recipes.


By: Alexandra

Mayonnaise typically doesn't contain gluten, so it can be used in dressings.