What Are the Best Tips for Making Caramelized Onion Pizza?
When it comes to making caramelized onion pizza, some thought and consideration should be put into the types of onions used as well as the additional ingredients. The purpose of caramelizing the onions is to make them soft and bring out the inherent sweetness within them. To facilitate this even more, it is often best to choose an onion that is already fairly sweet, such as Spanish or yellow onions, or to use some sugar while caramelizing them. Additional ingredients used to top the caramelized onion pizza should also be considered, such as different types of cheeses and meats with flavors that work well with the onion.
Caramelized onion pizza often begins with the onions, and so consideration should be put into determining which ones to use. Sweet onions are commonly considered best for this type of preparation, since the caramelizing process brings out and enhances the sweetness of any onion used. Yellow or Spanish onions are often preferred, though some red onions can also introduce a sweet and robust flavor after caramelizing. In the end, however, the preferences of the person eating the caramelized onion pizza should be considered and just about any type of onion can be used.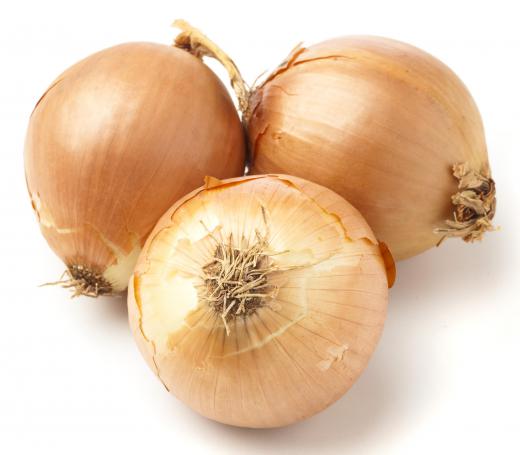 The actual process of caramelizing onions for caramelized onion pizza often takes as long as or longer than baking the pizza itself. Since this is such an important component of the overall flavor of the dish, however, it is well worth it for a pizza-maker to ensure the onions are cooked slowly until soft and golden. It is not uncommon for a cook to add some brown sugar or honey to the skillet while cooking the onions for caramelized onion pizza, which enhances the potential sweetness of the onions used. Caramelizing is often performed over medium or low heat for up to half an hour, though the onions may require less time.
In addition to the onions for caramelized onion pizza, other ingredients and toppings should be considered. The sweetness of the onions is often paired well with something salty, so many pizza-makers prefer to use meat such as prosciutto or Italian sausage with them. There are also a wide range of sauces and cheeses that can be used to make this pizza, including basic red sauce and cheeses that can range from mozzarella to gorgonzola. Some prefer to make caramelized onion pizza without any sauce at all, allowing the onions and some cheese to enhance the flavor of the dough and act as the primary focus of the dish.
AS FEATURED ON:
AS FEATURED ON:

Raw onions.

By: Tyler Olson

Other ingredients in an onion pizza might include salty toppings that pair well with onions.

By: bergamont

Those who prefer a sweet, powerful flavor may prefer using red onions to make caramelized onion pizza.