What Are the Best Tips for Making Bagel Sandwiches?
Bagel sandwiches can be healthy if cooks choose whole grain or wheat bagels. For those who are on a low-carbohydrate diet or trying to lose weight, bagel sandwiches can also be made with bagel thins. Bagel thins contain less bread than ordinary bagels, making them lower in calories and carbohydrates. Sour dough bagels are great for making vegetarian sandwiches, while cinnamon raisin bagels are good with peanut butter and jelly.
Making bagel breakfast sandwiches at home can be a good alternative to buying them at a fast food restaurant. One advantage of making a homemade breakfast bagel sandwich is saving money. Another advantage is being able to control the ingredients to make the sandwich healthier. Whole wheat or multi grain bagels are a good choice for breakfast sandwiches.
Although many people think bagel sandwiches are mainly for breakfast, this does not have to be the case. Bagel sandwiches also make excellent bagged or boxed lunches. Egg or tuna salad can be spread on a bagel, and topped with cheese if desired. For food safety, any salad made with mayonnaise should not be kept at room temperature for more than two hours, and the same rule applies to meat and fish. If possible, the sandwich should be refrigerated or kept in an insulated cooler bag.
Bagel sandwiches may be the entree of a meal, or sandwiches made with mini bagels may be served as snacks. A mini bagel can be prepared a number of ways. Hazelnut spread is a nutritional choice that can be used for making a mini bagel sandwich.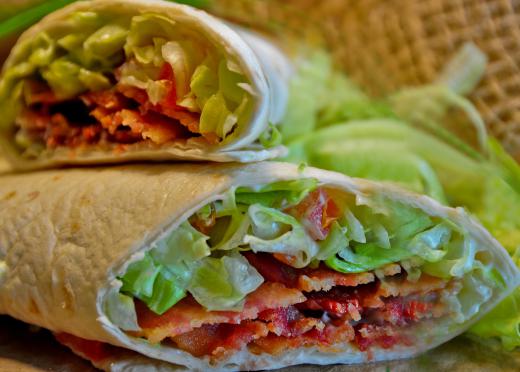 Kids love making their own-open faced bagel sandwiches. Almost any sandwich ingredients may be used when making open-faced sandwiches. Kids seem to enjoy mini bagels that are prepared with tomato sauce and shredded mozzarella cheese, and made into an open faced mini sandwich. These treats may be baked in a toaster oven for five to ten minutes for a satisfying snack.
Apples and cinnamon can be other good choices for kid-friendly snacks. Apple slices, ground cinnamon, and sugar can be spread over a bagel, then baked in the oven for about ten minutes. Many say this treat tastes somewhat like fresh baked apple pie.
Any bagel can easily be transformed into a delicatessen favorite. For a bagel Reuben sandwich, all that is needed is Swiss cheese, Russian dressing, corned beef, and sauerkraut. The Reuben bagel sandwich may be warmed in the oven if desired, or served cold.


By: carlos Restrepo

Bagel sandwiches may be heated in a toaster oven.

By: michelaubryphoto

Bagel breakfast sandwiches are easily made at home.

By: diego cervo

Moms can pack healthy bagel sandwiches in their child's school lunchbox.

By: D. Loren Keith

If bagels are unavailable, it's easy to make a tortilla wrap with the same fillings.