What Are the Best Tips for Making a Carrot Costume?
Whether for a school play, Halloween, or just to support intake of vitamin A, making a carrot costume can be a great activity for any age. There are several different ways to make a carrot costume, which can be adapted to the time available and the skill of the craftsman. Using sweatshirts, poster board, or felt, building a carrot outfit can be bunches of fun.
One of the easiest ways to make a carrot costume is simply by using orange sweats. Purchase a pair of orange sweatpants and a hooded orange sweatshirt, or dye white sweats using orange drink mix or food coloring. Use a brown felt marker to draw carrot ribs across the sweats, making the ribs progressively narrower towards the bottom. Wear a green hat, dye hair green with a temporary dye, or wrap green pipe cleaners around a headband to make the carrot greens. Check costume stores for orange face paint to make hands and face carrot-colored as well.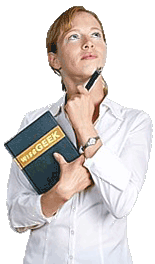 Another simple version of a carrot option requires no fabric at all. Buy two large pieces of orange poster board, then cut them into long triangles. Make two small holes near the top of each side, then loop sturdy string through the holes to create a sandwich-board style costume. Consider attaching additional poster board carrots to each arm, to create a bunch, rather than a single vegetable.
Making a carrot costume out of felt can make it easier to move around, and can be quite simple. Take measurements from the top of shoulders to however low the costume will go, then purchase orange felt at double this length. Cut the fabric in half on the short side, so that there are two equal, long pieces. Keeping one piece of fabric atop the other, cut the bottoms in a slight V-shape to indicate the tapering shape of the carrot costume. Using scissors or a straight edge blade, cut the fabric into several horizontal strips.
Once the fabric is cut into strips, overlap the strips for one side, and sew them back together with brown thread to make the carrot ribs. After this is completed on both sides, sew the tops of the two pieces back together at the edges, leaving enough room for the head. The costume can be sewed partially down the sides, or left open for easier movement. For the carrot top, cut a piece of green felt into strips and sew to a green beret or beanie.
AS FEATURED ON:
AS FEATURED ON:

Woman holding a book