What Are the Best Tips for Kabob Grilling?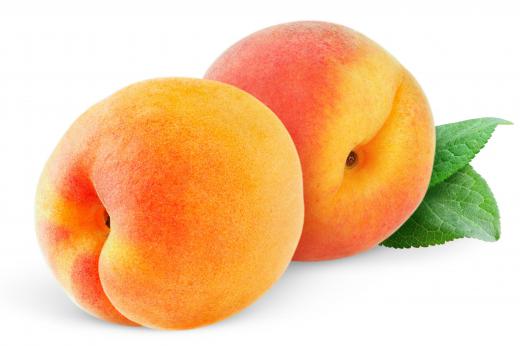 One of the best tips for kabob grilling is to cook the skewered vegetables, fruits and/or meats over low to medium heat. Grilling ingredients separately can ensure that each gets cooked to perfection. Vegetables such as onions and peppers that hold their shape well are good in kabob grilling, as are sweet fruits that can be served as dessert. Simple marinades can be used on kebobs to add flavor.
Grilling kebobs on low to medium rather than high heat allows meats to cook safely all the way through and vegetables or fruits to be tender. A little space should always be left between each skewered piece of food to ensure even cooking. Another important tip for kabob grilling is to have all of the foods on each skewer with the same approximate cooking times as well in similar size pieces.
Unless cubes of steak are desired to be cooked rare, it's best to make separate beef kabobs or the other ingredients are likely to become overcooked. Vegetables and fruits could be placed on separate skewers. Pork, lamb or poultry could also be cooked on separated kabobs. Large shrimp is typically the best protein source to cook with fruits or vegetables on the skewers, as it tends to take about the same amount of grilling time to become opaque and ready to eat. Raw rather than canned or frozen fruits and vegetables should be used in kabob grilling.
Wedges of onion and green pepper are popular kabob choices. They tend to hold their shape well during grilling and complement all kabob proteins such as shrimp, meat and poultry. Whole mushrooms are also ideal for skewering on kabobs and small or medium sized ones tend to work better than larger sizes. Cherry tomatoes and zucchini slices are other good vegetables to use when kabob grilling.
Marinades for kabobs don't have to be complicated. Wine, lemon juice, garlic, pepper and a few seasonings that complement the kabob contents such as rosemary or basil are usually all that's needed. The uncooked kabobs should be turned in the marinade occasionally and kept refrigerated for up to a few hours until grilling time. Kabobs may be made on an outdoor grill as well as the type designed for indoor use. If wooden skewers are used for kabob grilling, they should be soaked in water for at least 30 minutes first to prevent the wood from burning and smoking.
Fresh pineapple slices or chunks can be especially delicious when grilled and add a pleasant tropical flavor to the cooked meat. Peaches, bananas and apricots are other good grilling fruits. While these may be combined with vegetables and meat kabobs to serve as the main course, grilled fruit could be served as the dessert course. One fruit or a combination may be served after the meal topped with whipped cream or ice cream. Dessert sauces such as those made with rum or wine may also accompany the grilled dessert fruit.


By: Anna Kucherova

Peaches grilled on a kabob can be a great summer treat.

By: Malyshchyts Viktar

Adding fresh pineapple to kabobs can give the meat a tropical flavor.

By: valery121283

Peppers, when sliced into thick strips, can be grilled on kabobs.

By: valery121283

It's best to prepare beef kebobs separately from other ingredients.

By: Jag_cz

Raw vegetables are best to use for kabob grilling.