What are the Best Tips for Installing a do-It-Yourself Patio Cover?
There are a number of tips and tricks for installing a do-it-yourself patio cover, many of which concern properly choosing the materials and type of cover to be installed. Proper measuring of the size of the patio is important to ensure the cover will fit, especially if installing a prefabricated patio cover. Someone should also consider the different types of covers that can be installed, as well as ensuring he or she has the proper tools and help needed to install the patio cover. Proper preparation is important when installing a do-it-yourself patio cover, which includes being aware of any local regulations or rules for installing patio covers or enclosures.
A do-it-yourself patio cover is typically a covering for an outdoor patio area that a home or business owner can install without the help of professional installers or carpenters. There are many different types of patio covers that can be purchased and installed, and a patio cover can also fairly easily be built by someone with the time and inclination to do so. One of the most important things to be aware of before a person begins this type of project is the size of the patio. It is vital to properly measure the length and width of the area being covered, as well as knowing at what height the person wishes to install the cover.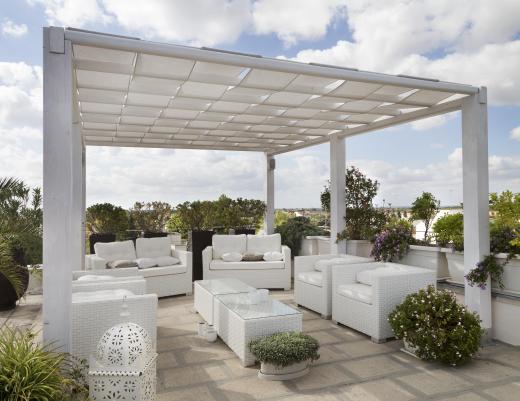 When choosing or designing a do-it-yourself patio cover, someone should consider the various options available for this type of cover. Retractable covers can be beneficial since they give the owner more options for use, but they are often more prone to wear and tear during use. A permanent do-it-yourself patio cover can be somewhat more complicated to build or install, but provides more optional features. These features can include the design and aesthetic style of the cover, as well as features such as electrical lines for lighting or an outdoor ceiling fan.
Someone should also be aware of any zoning restrictions or regulations in his or her area before installing a do-it-yourself patio cover. In some areas, permits may be necessary before installing this type of patio cover, and certain parts of a person's house may not be legally coverable. Installing a permanent do-it-yourself patio cover beneath a second floor window, on the other hand, could provide a potential escape route in case of fire, which could reduce insurance rates in some locations. Before installing a patio cover, someone should be sure he or she has any necessary tools, such as hammers, a level, and the proper nails and screws for the materials being used, as well as the number of people needed to complete the installation safely.
AS FEATURED ON:
AS FEATURED ON:

By: brunobarillari

A permanent patio cover may be more difficult to install.

By: donatas1205

Ensuring one has all the necessary tools, such as a hammer, should be one of the first steps in preparing to install a patio cover.