What are the Best Tips for Installing a Basement Sauna?
When installing a basement sauna, the first things to take into account are the type of sauna you will install and the location of the sauna within the basement. Many saunas come in kits, and for the homeowner without a significant amount of carpentry experience, this will be the best option. Such kits will contain step by step instructions for installing the basement sauna, and most of the materials will be pre-cut and ready for assembly. Before purchasing a sauna kit, it is important to figure out what size basement sauna is desired, and which size is realistic in terms of price and basement space.
Installing a basement sauna in the corner of the basement will make the installation easier because two structural walls are already in place. Framing on two out of the four basement sauna walls can be done more quickly if the sauna is built in a corner, and if existing wiring is already in place, running electricity to the sauna heater will be much easier. One should be sure to choose what heater he or she will use for the basement sauna before installation begins, as new wires may need to be run to power the heater. Larger saunas will need a 240 volt heater, whereas smaller saunas may need a smaller heater.
Make sure the sauna is in an area of the basement that is a safe distance from any objects like heaters or furnaces. The sauna should be easily accessible from the house's upper levels, and that the path to and from the sauna is adequately lit to prevent injuries. The ceiling and the floor of the sauna will have to be framed as well, which will help retain heat within the sauna and prevent moisture from reaching support beams overhead or concrete below.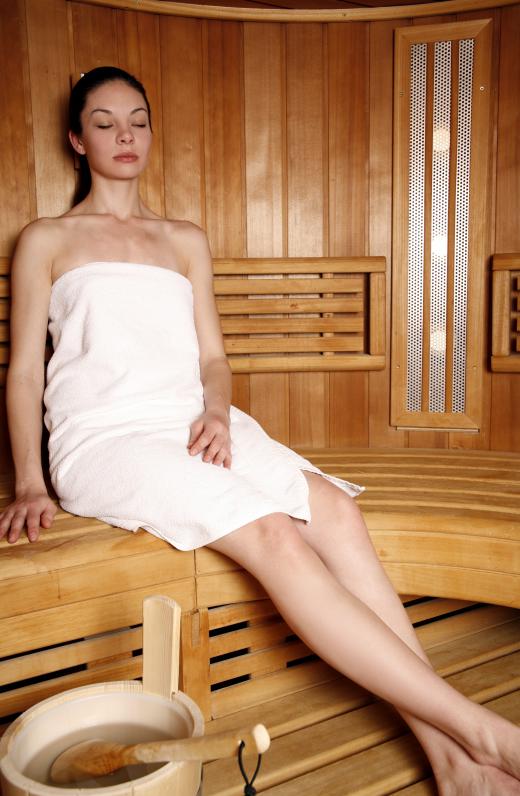 A basement sauna will have to retain heat thoroughly to be worth the investment. Since basements are often cool places, this heat retention is especially important both for the function of the sauna and for energy savings. Make sure the pre-cut cedar boards that line the inside of the sauna fit together snugly, or if the installer is cutting the pieces himself, he should be sure the cuts are accurate and snug enough to prevent heat loss. This is especially important for the floor and ceiling panels. On the outside of the sauna, one can hang drywall to improve the look of the structure.
AS FEATURED ON:
AS FEATURED ON:

Women using a basement sauna.

By: omicron

A woman in a basement sauna.

By: meailleluc.com

Saunas should not be installed anywhere near basement furnaces.