What are the Best Tips for Flower Arranging for Weddings?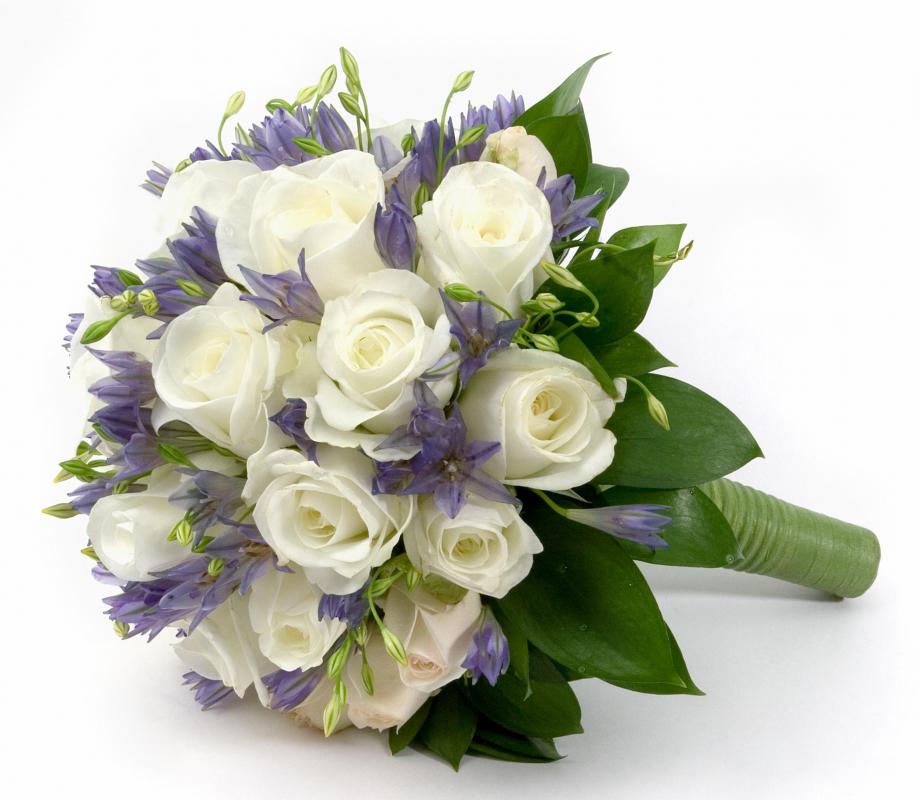 Some people choose to do their own flower arranging for weddings rather than hiring a florist to do it; this can be a great way to save money as well as a way to express creativity. Of course, it does require some additional planning and effort, and a basic understanding of how to care for flowers, and ensure they still look nice on the day of the wedding. Considering how the flowers will look in bouquets, centerpieces, and other decorative areas, is very important as well when attempting flower arranging for weddings. Generally, the best place to begin is by considering the color scheme of the wedding, favorite flowers of the bride and groom, and the time of year, as this could make it more difficult to obtain certain kinds of flowers without paying a hefty price.
Generally, people who are planning the flower arranging for weddings will want to make sure there is some cohesiveness in the floral arrangements. The flowers do not need to be identical in each arrangement, but they should be related in both color and type. The color scheme of the wedding, such as the bridesmaids' dresses and table linens, can be a good place to start when choosing specific colors of flowers. Also consider the theme of the wedding; is it very formal or more casual? A more formal affair will require more ornate floral arrangements, whereas casual outdoor weddings can allow for more freedom in arrangements.
Specific flower counts will also be needed when flower arranging for weddings. Searching online for florist advice, or purchasing a guide to flower arranging can help make it clear how many flowers will be needed for bouquets, centerpieces, or corsages depending on how dense the arrangements need to look. Also consider the height of the centerpieces; dense centerpieces can look great, but not if they are at eye level. Be sure to cut the stems so they are short enough for people to talk over, or make them tall enough so they are above guests' heads.
Practical considerations are important as well. For instance, once the flowers are delivered, how will they be stored and cared for? It is important to keep the flowers in water in a relatively cool environment; certain flowers or petals will need to be refrigerated. Flower arranging for weddings can be fun and creative, and to a certain extent allows for some trial and error, but it will also require meticulous preparation to be sure it goes smoothly.
The colors of a bouquet should match or complement those used throughout the wedding.

Some people prefer to do their own flower arrangements for a wedding rather than having a professional do them.

A florist needs to have an excellent eye for color and aesthetics when arranging flowers for a wedding.