What are the Best Tips for Family Adventure Travel?
The best tip for family adventure travel is to take the planning process seriously. As this is a family adventure, make sure the whole family is involved in choosing the vacation. Ask around for recommended locations and be thorough in researching destinations, considering each family member's needs and preferences. Prepare children for physical activities planned and put together a checklist before packing to get the most out of this vacation.
Plan the family adventure travel with the entire family. This is the best way to make sure everyone will have a good time. A major obstacle in the way of teenage enjoyment of family trips is when they feel dragged along. Involving everyone in the planning processes will help everyone feel that it is their vacation, which will very likely increase everyone's enjoyment.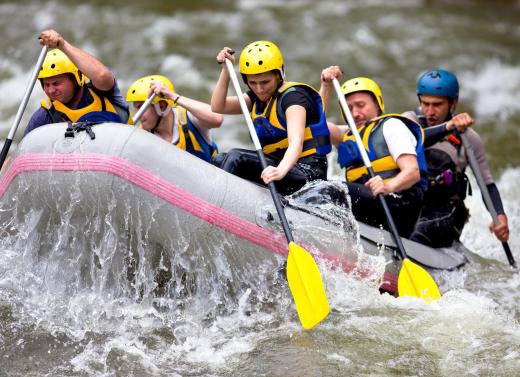 Talk to friends, family, and coworkers about their experiences with family adventure travel. Word of mouth remains one of the best and most reliable referral tools. Ask people for recommended destinations or activities. Also find out if they have any advice for things to avoid. Learn from other family adventuring mistakes so they are not needlessly repeated.
Seek out companies that offer family adventure travel. There is a large market for family-friendly vacation destinations, and so most companies have travel deals designed to entertain all ages. An Internet search or a visit to a local travel agency is a great launching point for options.
When a few family adventure travel destinations have been narrowed down, make the final decision as educated a one as possible. It may help to write out a list of questions or concerns before talking to the travel companies. Considering how expensive these trips can get, it is important to be thorough. It would be very disappointing to arrive at the destination to find there are no vegetarian meal options or wheelchair access, if they are needed.
After the family has chosen the family adventure travel destination, spend some time learning and preparing for the trip. This is another activity that is best done with the whole family to ensure everyone feels involved and gets the most out of the trip. Find some guide books or brochures and ask the travel company for suggested reading. Allow teenagers or younger web-savvy kids do their own research for the trip and plan out the itinerary together.
Prepare younger children for the physical activities planned during the family adventure travel. If water sports are in the plans, take children to a local lake to practice paddling. For hiking trips, start taking the kids on walks. This will help prevent or postpone their smaller muscles from tiring out early.
Ask someone knowledgeable, like the travel agency, about any documents needed or vaccinations required for the destination chosen. They may also be able to provide a list of suggested items to pack. Chances are, especially when packing for a whole family, that something is going to get left out of the luggage. The best way to prevent this is to be as thorough as possible when packing. Making a checklist or following an already made one can make a big difference.
AS FEATURED ON:
AS FEATURED ON:

By: VILevi

Family adventure travel may include activities such as whitewater rafting.

By: micromonkey

Camping is a popular family adventure.

By: Liv Friis-larsen

A trip to the beach can make for a great day adventure.

By: The Photos

Adventure seekers may enjoy traveling to different ski slopes.

By: micromonkey

A picnic is a great addition to a family trip.