What Are the Best Tips for Doing Hair Extensions at Home?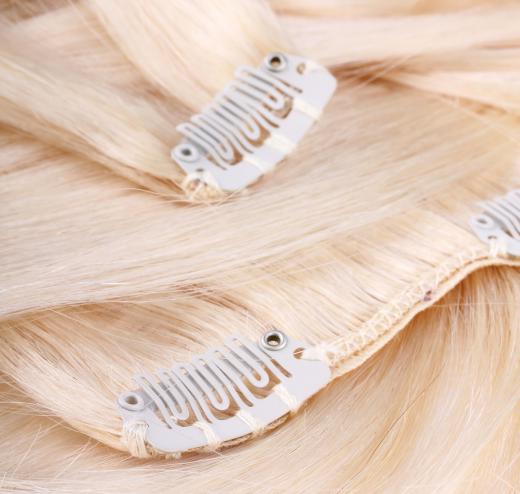 Typically, some of the best tips for doing hair extensions at home are to prepare one's hair prior to applying the hair extensions, select the desired length and type of hair extensions one prefers and choose the right color that will work well with one's natural hair color. Applying hair extensions at home requires that one starts with carefully washing and drying one's hair. Usually, starting with one's own clean hair is vital, because the do-it-yourself (DIY) hair extensions can be easily attached if the hair is clean without any residue or oily buildup. When choosing the right color for one's hair extensions, sticking to a color that is the closest match possible to his or her own hair color is recommended. Selecting the right color for one's hair extensions might help make sure that the extensions will blend well with one's own hair color.
Further, the type of hair extensions include clip-in, glue-on and many other options. Each type of hair extensions has its own advantages. Generally, clip-in hair extensions are easy to attach to and remove from one's hair. Clip-in hair extensions often provide flexibility in styles, so the wearer is able to simply clip the hair extensions in any area of his or her own hair to instantly provide length or volume to one's hair.
Glue-on hair extensions might be a simple method of attaching hair extensions to one's hair. The usual things needed to apply glue-on hair extensions at home are the bonding glue, the remover and the hair extensions of one's color and length preference. Bonding hair extensions usually are a temporary option for many people who might not want to keep the hair extensions in for a long period of time. Typically, bonding hair extensions are easy and simple to use. Generally, one can effortlessly attach the hair extensions and add length or body to one's own hair by placing some of the bonding glue on the hair extensions' weft and attaching the hair extension to the root of one's own hair.
When putting in hair extensions at home, some things can be done to preserve the quality of one's hair extensions and to help keep the hair extensions intact. One generally should use proper care and maintenance by washing one's hair extensions regularly. The daily application of a light moisturizing spray made for hair extensions also is recommended.


By: pavel Chernobrivets

Blonde hair extensions.

By: soup studio

It's important to start with clean hair when applying hair extensions.