What are the Best Tips for Doing Dissertation Research?
Writing a dissertation takes a lot of planning, research, and rewriting. To ensure the best possible paper, a student needs to do key dissertation research on each step of the process and review the research at the end of her dissertation to ensure she hasn't missed anything important or misconstrued a fact. The best place for the student to begin her dissertation research is in her topic's main field and any areas relating to it.
Beginning her dissertation research in the field she wants to write about will help her narrow down her topic idea and take notes of new information which may pertain to her dissertation research later on. She should also understand the key books, papers, or people who have greatly influenced the field or subject she is writing about. This knowledge will allow the student to build her dissertation research based on what others have already discovered, and she can then create a new idea which no one has written about yet.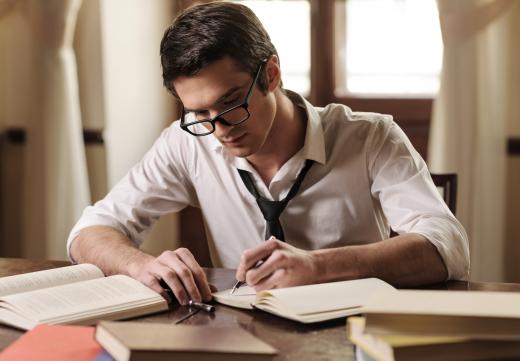 Next, the student should narrow her topic down to a central, specific thesis. She should plan to work during the time of day when she has the most energy and create realistic goals concerning deadlines and time management. Her next research session should cover the materials already in the field related to her thesis so she can see if her idea is too similar to a work already out there. Any time she finds material she thinks may be useful, she should write down the title and author. When writing down facts or figures, she should always write down the proper citation for quick reference in case she decides to use that statistic in her dissertation.
When performing research, it is important to always track facts back to their original source. If a person is quoted in an article, the student should try to find the article the original quote came from. This may also give her a new lead for further research materials. When researching topics, she should start with a broad topic and narrow it down. Each time she finds something interesting that she needs to know more about for her paper, she can narrow her research down to cover this topic.
Pulling out facts, figures, and statistics will give the student information to convert into tables and graphs for her dissertation. She should always cite where she got the information, check that the information is still up to date, and confirm that the source is reliable. She should keep a separate folder for each research topic to help find papers quickly when needed. It is also best for the student to begin creating an outline after she has enough research to get a general idea of what direction her thesis should take.
AS FEATURED ON:
AS FEATURED ON:

By: BlueSkyImages

Anyone writing a research paper should create an outline before writing.

By: Nazzalbe

Dissertation research helps narrow down topic ideas.

By: Monkey Business

The dissertation process typically involves conferences with an academic advisor or instructor.

By: Tyler Olson

Professors can help students determine the best way to use a dissertation database in writing college-level papers.