What Are the Best Tips for Decorating a Concrete Balcony?
Whether a concrete balcony is large or small, there are many ways to turn it into a personal oasis. Lighting, greenery, and seating are the most popular elements of balcony decoration, but there are other ways to spruce up a concrete balcony as well. Hanging artwork and displaying crafts are easy ways to brighten any balcony. Adding wind chimes and a fountain will make the balcony a relaxing place where the residents can quietly enjoy the outdoors or entertain guests.
Plants are among the first things that come to most people's minds when planning balcony décor because using plants is a quick and easy way to decorate. Greenery also adds life and color to a space. Pots and planters are available in various sizes and shapes so that even the smallest balcony can be beautified by a colorful pot filled with flowers.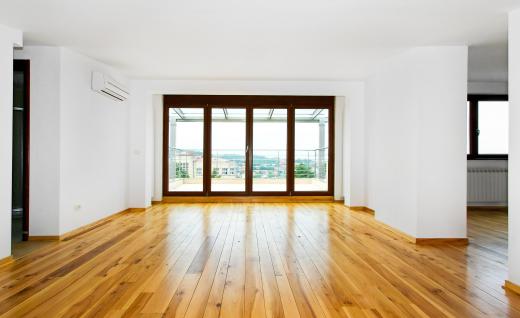 A trellis can help an attractive, vertical garden fit into a small space, while long planters can be placed around the perimeter of a large balcony. Planters are also available that can be hung over a railing, saving the floor space for seating and other objects like fountains and barbecue grills. Trailing and flowering plants such as ivy geranium, trailing verbena, and phlox grown in planters hung from a balcony railing or wall will define a balcony with a beautiful, blooming border.
Plants can also be artfully placed to create privacy on a balcony. For example, a row of hanging baskets containing trailing plants hung from the balcony ceiling can be used to create a decorative privacy screen. A row of upright or bushy plants in pots placed on the floor will create a living fence and offer privacy to those enjoying the concrete balcony. People who want total privacy can even install fencing to permanently block the balcony from prying eyes.
An instant splash of color can be added to a balcony by hanging a garden flag, banner, or wind sock. Hanging a beaded curtain or two will also add color to a concrete balcony while offering some privacy. A colorful rug or carpet can also dress up a concrete balcony and will soften the look of the concrete.
Decorating a concrete balcony doesn't have to be expensive. Pots, planters, decorative hangings, and rugs can be found at surplus and thrift stores. A handy craftsman can paint planters, make macramé plant hangers, or create a colorful banner to create unique decorations for a concrete balcony.
AS FEATURED ON:
AS FEATURED ON:

By: Tatty

A house with a concrete balcony.

By: Lilyana Vynogradova

Decorating a concrete balcony doesn't have to be expensive.

By: dbvirago

Adding wind chimes to a balcony can help create a space for relaxation.