What Are the Best Tips for Cooking Lamb Shank in Red Wine?
The best tips for cooking lamb shank in red wine are to brown the meat before cooking, to use a full-bodied red wine, to cook the shanks in beef stock with a small amount of brown sugar, and to cover the meat during oven cooking. Cooking lamb shank in red wine should be done slowly, preferably for two-and-a-half to three hours at 325 degrees Fahrenheit (162 Celsius). Chefs should ensure that the shanks are entirely submerged in the red wine and beef stock mixture during cooking. This enables the meat to soak up as much juice as possible.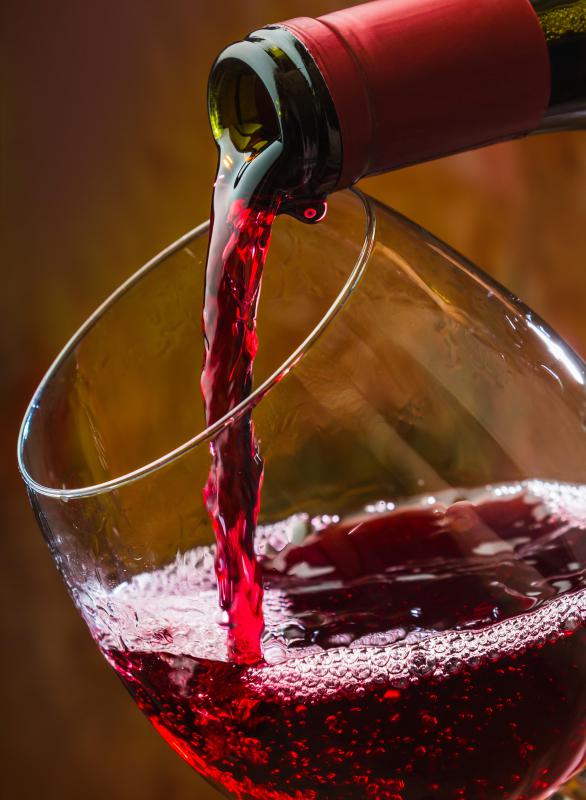 Arguably the most important tip for cooking lamb shank in red wine is to brown the meat before roasting in the oven. Chefs should season the shanks with salt and pepper, and then shallow fry them in hot oil until browned all over. This closes up the pores in the meat and traps the fat and juices inside the meat during cooking. The resulting shank should be juicy and tender, giving the chef's guests a more pleasant dish.
Choosing the right wine is an important factor in cooking lamb shank in red wine; the chef should preferably use a full bodied wine to get the best flavor into the meat. The wine should be of drinking quality, as opposed to a low-cost cooking wine. Cheaper wine often tastes more of vinegar than more expensive wine, and this can affect the overall quality of the dish. Chefs should spend a little more on a good bottle of wine to get the best result. Mixing the wine in with some beef stock and a small amount of brown sugar can help to further enhance the flavor.
Most tips for cooking lamb shank in red wine revolve around making the meat as juicy as possible when it is cooked. The meat should ideally be roasted over a relatively low temperature — 325 Fahrenheit — for between two-and-a-half and three hours. This prevents the meat from drying out during cooking. Chefs should combine browning the meat with slow cooking for the juiciest lamb shanks possible.
Another way of keeping moisture in lamb shank with red wine is to cover the pot during cooking. The meat can lose moisture due to evaporation if it isn't covered. A lid prevents the moisture from escaping as a gas and infuses it back into the meat. To keep as much moisture locked into the meat as possible, chefs should cover the shanks tightly.
Use a full-bodied red wine when cooking lamb shank.

A lamb shank should be cooked in drinking-quality wine as opposed to cheap cooking wine.

A lamb shank can be cooked in a slow cooker with red wine.

Lamb shanks are traditionally served after slow roasting.