What Are the Best Tips for Car Dealer Marketing?
In order to run a successful car dealership, it can be important to address several different issues through marketing campaigns. Some types of car dealer marketing are good for drawing in new business, such as raffles, contests, and free gifts for anyone who requests a test drive, but it is also important to focus on customer retention. Specialized car dealer marketing campaigns that reach out to former customers can help bring in future business. Some marketing tips to help with customer retention are to send out mailers for free or discounted service, or to simply send cards out on holidays or the anniversary of the day a car was purchased.
The automotive dealership business can be highly competitive, so marketing efforts typically play a very important role in developing new customer relationships and retaining old ones. Both of these types of customers are necessary for the long term success of a business, so a good tip for car dealer marketing is to not overlook either category. While it can be perfectly acceptable for a marketing campaign to one over the other, it is generally a good idea to maintain a variety of different marketing efforts for the maximum effect.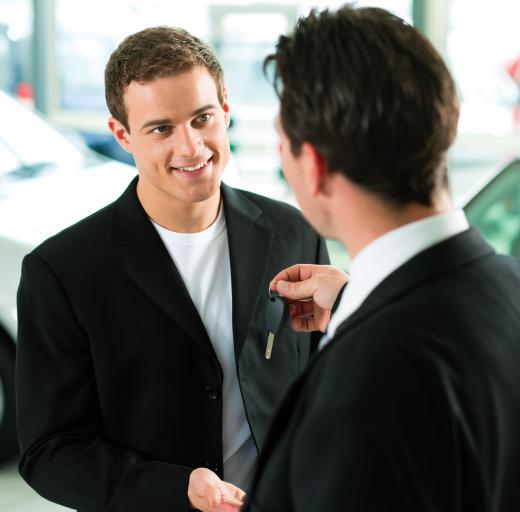 There are a number of different ways that car dealers can draw in new business through marketing. Local television and radio advertisements are popular, though it is important to keep the target demographics in mind when purchasing ad time. Radio stations often have very specific demographics, which can make it easier to target the listeners who would be most likely to buy from a particular dealership. Sponsoring local charity events, such as golf tournaments and auctions, can also help draw in business.
Giveaways, raffles, and competitions are also good car dealer marketing ideas. Not every person who shows up for these types of events will be a qualified buyer, but many will. As a condition for entering a raffle, or receiving a free gift, it is typically a good idea to request contact information. This should include an email address in addition to traditional forms of contact information, since that can provide the dealership with even more marketing opportunities. Offering to provide free gas, service, or other bonuses with all new cars can also help generate new business.
In addition to all of the various car dealer marketing campaigns that can draw in new business, there are also a number of ways to retain old customers. About half of all new car buyers replace their vehicles within five years, so it can be very important for a dealership to capture those repeat sales over the long term. One way to do that is to maintain contact with previous customers through targeted marketing campaigns. It may also help to institute special incentives on trade-in or buy-back programs for prior customers.
AS FEATURED ON:
AS FEATURED ON:

By: Kzenon

A car dealer selling a car.

By: Diane Keys

Car dealers may want to hold a raffle, through which they will collect contact information from potential buyers.

By: Phrysphotos

The automotive dealership business can be highly competitive, so marketing efforts typically play a very important role.

By: morchella

Radio advertisements are a popular method of advertising for local car dealers.