What Are the Best Tips for Buying Wholesale Tires?
It is often possible to save money by purchasing wholesale tires from a local distributor. Some tire manufacturers allow wholesale distributors to sell tires at a reduced price due to the large quantity of tires sold by the distributor. Price should not be the only factor when purchasing wholesale tires. Tire brand and warranty are also areas to consider prior to making any tire purchase. Avoid any wholesale tires that are copies of popular tires, as counterfeit tires are occasionally low-quality offerings without warranty and are often mismatched and incorrectly sized.
There is a major difference in dealers who specialize in the selling of wholesale tires and those dealers who simply sell cheap tires. Often, counterfeit tires are sold, claiming to be a major manufacturer's tire when in reality the tire is a cheap knock-off or a copy of an original brand name tire. A tip that will usually aid in the detection of counterfeit tires is to ask the seller to see an invoice or bill of lading for the tires. This will commonly show the point of origin of the tires and will identify if the tires really came from the manufacturer that they are claimed to have come from.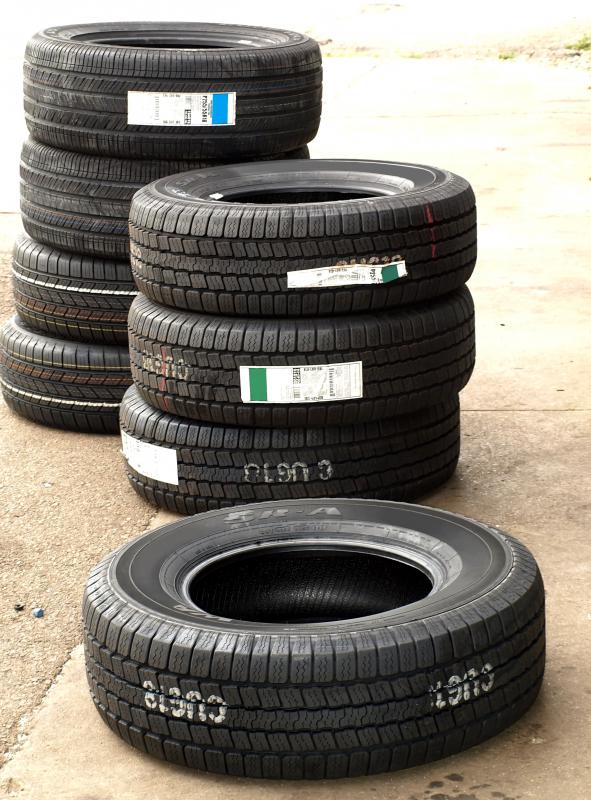 The best tip for buying wholesale tires is to shop around and talk to other buyers. Buying tires only from a reputable tire distributor, and always getting any warranty information in writing that includes the seller's letterhead, will typically ensure any problem will be resolved without issue. Asking the seller of the wholesale tires to examine the tires prior to mounting them on wheels can allow a buyer to examine the tires thoroughly. Examining the interior of the tires to ensure there are no blemishes, air bubbles or cuts in the inside of the tire is a good step to ensure a quality tire is purchased. This is also a good method of identifying second-hand parts or blemishes from wholesale tires.
Everything the tire dealer is prepared to offer when buying a set of wholesale tires should be taken advantage of. Many times, tire dealers will offer discounted or free mounting and balancing with a set of tires or a discount for purchasing four tires at one time. It is always wise to ask what promotions and extras the dealer is willing to offer with the purchase of a set of tires. Failure to inquire about any specials can result in the dealer holding the items back to further enhance his bottom line. Also, if purchasing tires for more than one vehicle, it is wise to ask about receiving multiple discounts when purchasing any wholesale tires.
A vehicle tire.

Wholesale tires.

Wholesale tires.