What Are the Best Tips for Building a Sauna?
As is the case with most building projects, the most important step in building a sauna is proper planning. Before you head to the hardware store and the lumber yard to get your supplies, you will need to take careful measurements in the space in which you intend to start building a sauna, and consider whether that space is the most appropriate location for the unit. The size, shape, design, and cost of the sauna you build can vary significantly based on your plans, and proper planning will ensure you stay within budget and get the finished product you want.
Once you have determined the size and location of the unit, the next step in building a sauna is determining what materials you will use for construction and what type of heater you will use. The type of heater will depend on the size of the sauna, and it may be wise to contact a sauna dealer to help determine which size heater is most appropriate for the structure you will be building. A heater that is too powerful for a small sauna will make the room far too hot and therefore potentially dangerous, and a heater that is too small may not be able to adequately heat the space.
The wood you choose for building a sauna will have a significant impact on the efficiency and longevity of the space. Cedar is a popular choice because it is naturally resistant to water damage and bug infestations, and it is a highly aromatic wood. Some people enjoy the aroma, but others may find the scent cloying and overwhelming when they are in the sauna, in which case a less aromatic wood may be in order. Hemlock is a popular choice, as is teak; the latter has many of the same properties as cedar, but it is less aromatic and far more expensive.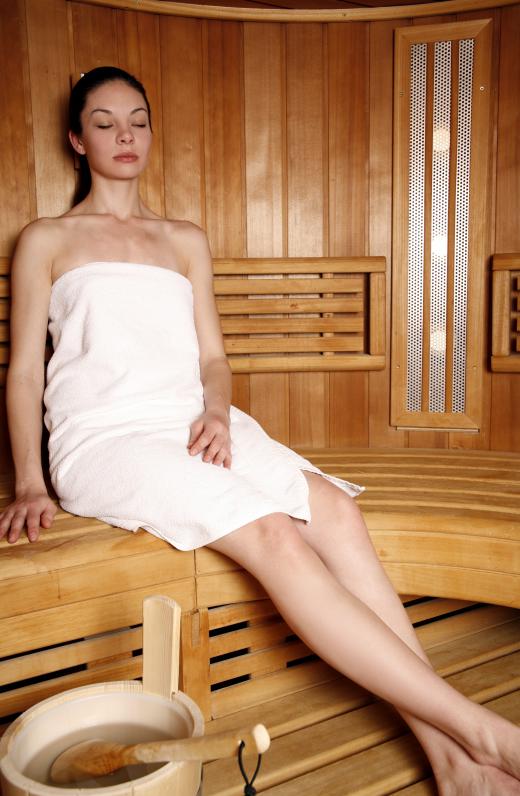 Remember that unlike building another structure such as a closet or a shed, building a sauna will involve insulating the walls to prevent excess heat loss. Be sure to research the different insulation methods, and remember that moisture will very likely seep through the boards and reach that insulation; try to avoid any insulation that will get waterlogged and therefore grow mold or lose its effectiveness as an insulator. Foil insulation is commonly used, though other methods do exist that can be more effective though perhaps slightly more expensive.
AS FEATURED ON:
AS FEATURED ON:

Women using a sauna.

By: omicron

A woman in a sauna.