What Are the Best Tips for Building a Home Theater?
When building a home theater, one should consider the size of the room in which it will be used. A large-screen TV should be the focal point of a home theater without overpowering the room. Other than the necessary equipment for building a home theater, such as a high definition TV, Blu-Ray® player and surround sound speakers, comfortable seating is a must. A good idea is to draw some type of blueprint or diagram showing where everything will be placed. Often overlooked but equally important are the accessories for building a home theater, such as high quality cables.
Finding books about or Internet information on building a home theater room can be helpful for the novice. Finding creative design ideas for building a home theater that is functional and practical can save time and effort. Reading tutorials online can offer solutions as well.
Consider the materials and equipment you will need to build a home theater and calculate the cost. You also need to decide whether to buy a plasma TV or a liquid crystal display (LCD) model. It's important to weigh the pros and cons of plasma versus LCD before making the final selection. Plasma tends to distort less when viewing fast moving images, and tends to be a better choice for viewing in rooms that receive bright sunlight.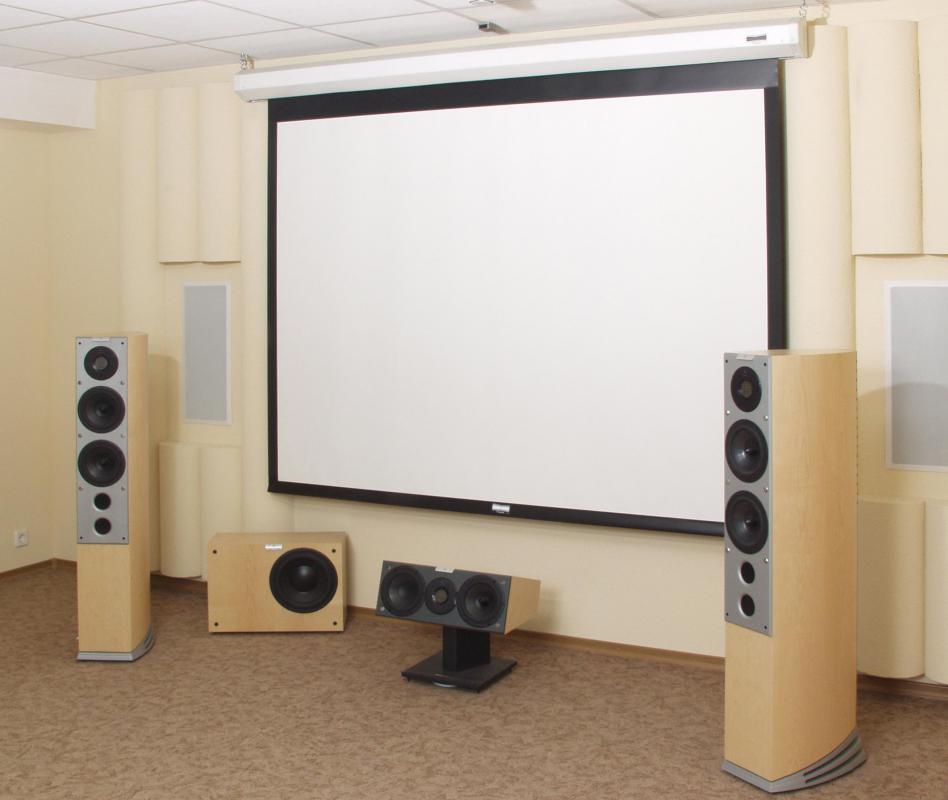 If you want to free up space for your equipment and seating, consider buying a flat panel TV. Flat panel televisions can be wall mounted and offer a good viewing angle as well. Unless you're experienced, it's best to have a professional install your flat panel TV.
Speaker design should fit the room's dimensions. The front speakers will consist of right, left, and center, while the subwoofer will produce the rich bass. Surround sound speakers will bring the experience to life.
Deciding where to place the speakers will typically depend on the room layout as well. Floor-standing speakers work well for large rooms, while bookshelf speakers can free up floor space for your furniture. In-wall speakers are another option to consider, although this will require more configuration and work. Your custom-made media room should accommodate seating for all the guests you may entertain.
Choose a universal remote that will operate all of your devices. If you want to enhance your home theater experience, do not buy a basic model. Consider a universal remote that has various options, such as a scene setting that allows you to fade to black, or other customizable features.
By: Intel Free Press

A Blu-ray® player.

By: Jacques

Thick speaker cables may help ensure a good, clean sound.

By: ludmilafoto

Deciding where to place speakers will depend on the layout of the home theater.

By: Elenathewise

A custom-made media room should accommodate seating for all the guests one may entertain.