What Are the Best Tips for Baking with Sour Cream?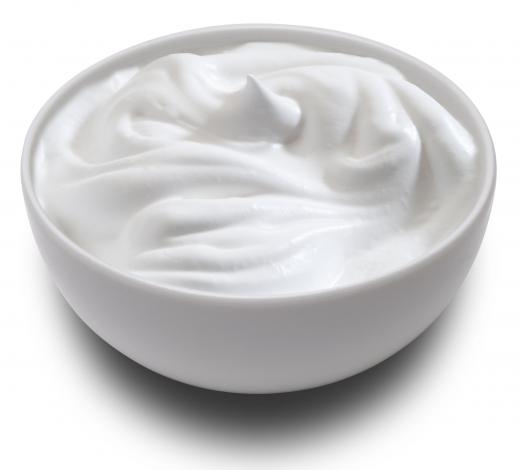 Sour cream adds a tangy sweet taste to casseroles and a rich density to baked goods. Although it has a pronounced flavor all its own that really doesn't need any enhancement, sour cream shines brighter with the addition of a wide range of herbs and spices, hot sauce or cheese. The wise cook knows that because sour cream separates after it has frozen and thawed, baking with sour cream is best done when cooking something that will be devoured in a sitting or two.
Many a cook has a time-saving go-to casserole recipe for family-satisfying dinners that can be thrown together on a busy evening without too much effort. Cooks who favor rice and meat casserole recipes based on a variety of canned soups such as cream of mushroom, tomato or chicken and rice will find that substituting sour cream for water or milk a results in a deeper, richer flavor and a dish that seems to ooze delicious, creamy flavor. Adding a handful of Swiss or cheddar cheese, or a few shakes of grated cheese such as Romano or Parmesan, just ratchets up the taste.
Baking with sour cream in pasta-based dishes allows the sour cream to seep into the pasta as the dish bakes. This results in tender pasta that is brimming with rich flavor in every bite. Baking with sour cream and pasta doesn't require much more for an elegant dinner dish. For home cooks who want to add a taste or two, mushrooms, softer veggies such as yellow summer squash or tomatoes, or a few sautéed onions mixed with garlic and ginger make a very fine statement.
Bread and dessert bakers also like baking with sour cream. Cheddar-dill bread gains a velvety texture and nice heft when sour cream is added to the mix. Sweet breads, too — such as carrot or zucchini bread — are better when sour cream is incorporated into the batter.
Most cake cooks know that adding sour cream to a boxed cake mix results in a totally unique texture and taste. This cake goes from average to extraordinary by transforming the texture and increasing the flavors already in the mix. A few shakes of cinnamon, ground ginger or even curry adds an exciting flavor dimension.
Sour cream isn't shy in terms of taste, and the diner pays for it to some degree with calories. In most cases, however, the cook can substitute low-fat or even fat-free sour cream without sacrificing much in terms of taste or textural transformation. Cooks who want to avoid common additives such as gelatin or rennet can whip up their own sour cream without much effort.


A bowl of sour cream.