What are the Best Tips for Applying Hair Extensions?
Most people use hair extensions to improve or alter their appearance. This goal may not be achieved if the hair pieces are carelessly inserted. When applying hair extensions, it is important to consider hair color, hair texture, and the best method of application.
Before applying hair extensions, hair color should be considered. If a person plans to blend the hair extensions with her natural hair, she will want the colors to match as closely as possible. An exception to this is when a person is trying to achieve a highlighted or multi-toned look. Even in these cases, color should still be considered to prevent extremes.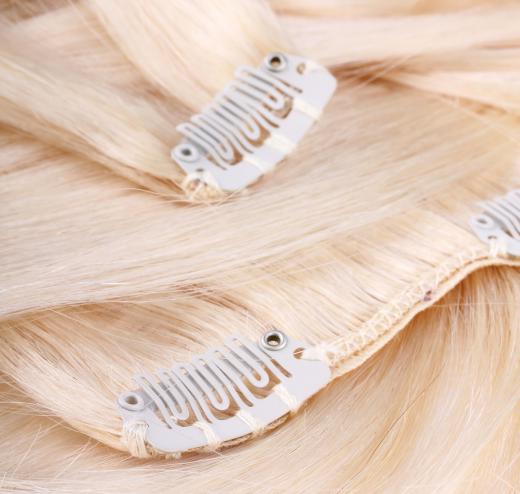 The same consideration needs to be made regarding the texture of the extensions. Some textures will not complement certain natural hair types. This means that these extensions will either need to be avoided or inserted so that the natural hair is wholly or predominately invisible. Another thing to consider when applying hair extensions is the condition of the natural hair. To prevent the hair pieces from looking like foreign objects, it may be necessary to perm or relax the natural hair.
There is more than one way to insert hair extensions. Some people use hair extension glue. Some other people sew the hair pieces into their hair. Then, there is also the possibility of braiding the extensions to the hair. One thing to consider when choosing the method of applying your hair extensions is the amount of time you wish to keep them. In most instances, extensions that are glued will provide the shortest wear time.
It is also important to remember that hair extension glue can be affected by a variety of things, such as oils and heat. This means you need to consider your lifestyle before inserting them. Likewise, braided and weaved extensions are not the best option for everyone. This is especially true for those with very short hair, since the braids may not stay as secure.
When applying hair extensions with glue or with needle and thread, it is important to do so evenly. Otherwise, the hair may hang unevenly, which may prompt a person to cut it. Cutting often has a negative effect on the hair piece. Therefore, those who use needle and thread should make sure their braids are straight before they begin sewing. When the hair piece will be glued, a person should strive to ensure that this is being done in a straight line.
AS FEATURED ON:
AS FEATURED ON:

By: pavel Chernobrivets

Blonde hair extensions.

By: RTDS

A stylist putting in hair extensions.

By: soup studio

Hair extensions should match a person's natural hair color as closely as possible.