What are the Best Methods for Mushroom Cultivation?
Mushroom cultivation is considered a rewarding hobby by many people. A low-cost activity, it also provides a food source for those who enjoy eating the fungi. With readily available mushroom kits, and simple cultivation procedures, many gardeners find it very simple to grow mushrooms.
Unlike plants, which grow from seeds, mushrooms are produced from microscopic mushroom spores. These spores do not have to be grown in soil. They can be grown anywhere from logs to coffee grounds to incubation chambers.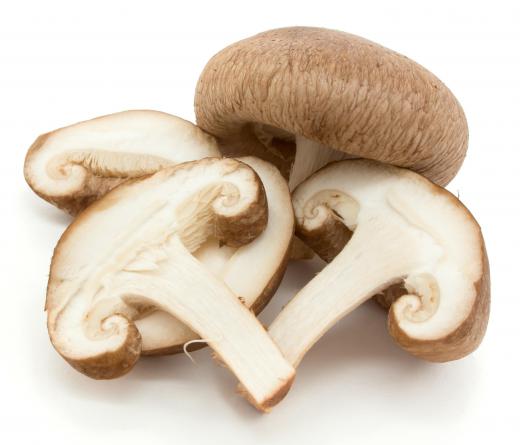 Growing spores on logs is a popular method of mushroom cultivation. Drill holes into the logs. Place oak dowels filled with mushroom spawn, which can be ordered from a mycology supplies store, into the holes. Cover the holes with wax. Allow the logs to sit in a damp spot off the ground, which will prevent them from unwanted mushroom cultivation by other species.
This method will yield mushrooms within six months or up to two years. The logs should be watered every few weeks during dry weather. Otherwise, they can be simply left alone to cultivate.
Coffee ground mushroom cultivation is particularly effective with oyster mushrooms. Fill a five gallon bucket halfway with damp coffee grounds. Dig a small hole and plant torn strips of an oyster mushroom into it. Lightly bury the shredded mushroom and cover the container with a lid, leaving it partially open. Mist the inside lightly every other day with water, add new coffee grounds on a regular basis, and mushrooms will usually sprout within three to five weeks.
Various kits and mushroom cultivation systems can be purchased as well. These generally include a growing chamber, containers for the mushrooms, a humidifier or heater, straw or soil, instructions, and tools needed. Prices for these kits range from moderate to costly.
Mycology, or the study of fungi, has determined that mushrooms can be of great use to humans. In cooking, mushrooms can be used in a variety of recipes. Some types are a good source of fiber, potassium, biotin, riboflavin, phosphorus, ascorbic acid, niacin, selenium, and thiamine. The fungi are also known for their medicinal properties, such as their use in penicillin.
Eating mushrooms that are homegrown should be done with caution. While 3,000 varieties of the fungus are edible, some are poisonous. Only mushrooms that are known to be edible should be cultivated for consumption. Some mushrooms, even edible varieties, can also cause mild to severe allergic reactions.


By: Aaron Amat

Mushrooms.

By: Chris leachman

Shiitake mushrooms are a popular, easy-to-grow variety.

By: morchella

Morel mushrooms are often picked wild, but they can also be grown from a kit.

By: Africa Studio

Oyster mushrooms are easy to cultivate.

By: Lovelli

It is easy to grow enoki mushrooms.

By: Robby Schenk

Scotch bonnets, with their unique sweet taste, are often grown by those who cultivate a variety of mushrooms.