What Are the Best Ideas for Making Shrimp Tacos?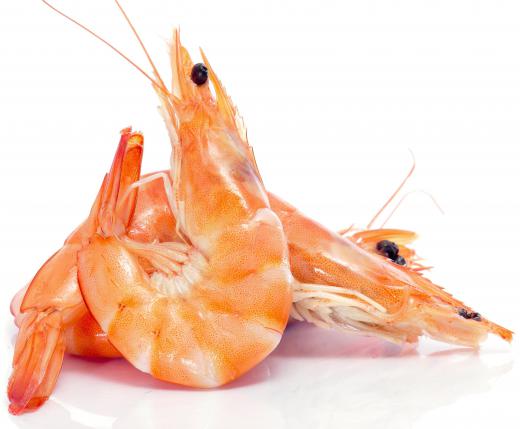 Shrimp tacos are easy, delicious and fast. The most flavorful shrimp tacos use only the freshest ingredients, such as cilantro, lime, and cumin. Shrimp for tacos can be made to be spicy, tart or sweet, depending on the seasonings used in the marinade. The time needed for making shrimp tacos, starting from preparation of the taco marinade to sitting at the table and enjoying the meal, is about 20 minutes.
When preparing fresh shrimp, one should peel off the shell and de-vein by cutting down the back of the shrimp and removing the vein. If frozen shrimp are being used, most of the time, they have been de-veined already, and only the remaining tail shell needs to be removed. A marinade could then be prepared to flavor the shrimp.
Tart marinades can be made with limes, avocados and tomatoes. A spicier taco marinade can be prepared from serrano peppers, chilies and cilantro. Whichever marinade is chosen and made, 20 minutes should be the longest time that shrimp should remain in the marinade. Any longer could allow the spices to overwhelm the flavor of this delicate seafood.
While the shrimp is marinating, the other fillings for the shrimp tacos can be prepared. Lettuce, sour cream, cheeses and guacamole are just a few of the choices. Each person's likes and dislikes can be satisfied. The beauty of preparing shrimp tacos is that it allows the ingredients to be changed to suit each individual.
Shrimp is a delicate seafood, so it does not take long to cook. After the shrimp is removed from the marinade, it can be cooked in olive oil in a frying pan or put on skewers and grilled. Either way, one to two minutes on each side will be sufficient to cook them thoroughly. If it is overcooked, shrimp can be tough.
If the shrimp are a large or jumbo size, a rough chop is in order to get them down to good, bite-size pieces for the shrimp tacos. Corn or tortilla shells can be bought at the grocery store and prepared according to the directions on the package. If the tacos cannot be eaten immediately after heating, place paper towels between them until they are served.
After adding the prepared shrimp to the shells, the other ingredients can then be added. Extra chips, a chipotle slaw and a black bean salsa can be added as side dishes. Even though they are a great meal anytime of the year, shrimp tacos are perfect in the summer because the preparation time is fast and cooking the shrimp and shells can be done on the grill instead of in the kitchen.


By: nito

Shrimp.

By: JJAVA

Shrimp tacos.

By: Brad Pict

Guacamole is a popular filling for shrimp tacos.

By: JJAVA

Robust salsa is a traditional accompaniment to shrimp tacos.