What Are the Best Ideas for Making a Shrimp Dip?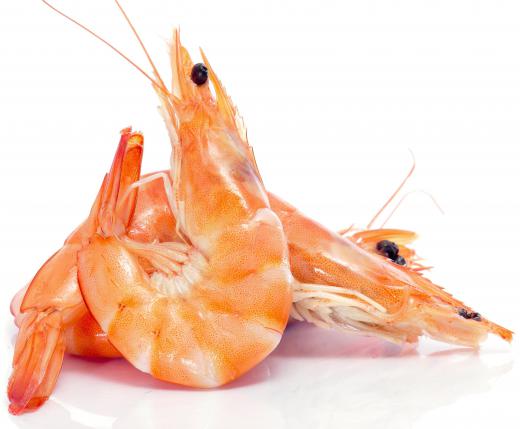 When making a shrimp dip, think about its presentation as well as its flavor. There are times a cook may want to use a red sauce with a little spice to it, but on other occasions have a creamy, refreshing kind of seafood dip. Shrimp dips are often extremely versatile. Cooks can use many different types of chips, crackers, bread and vegetables as "dippers," although depending on how thick the shrimp dip is, thin potato chips aren't a good choice as they may crumble. A thicker spread may be better for breads, crackers, raw vegetables and tortilla chips rather than a thinner dip.
While some cooks mash the shrimp for a dip or spread with a potato masher, this isn't usually necessary and may ruin some of the flavor of the seafood. Using small, soft shrimp such as the canned variety and chopping it usually yields a good consistency for a dip or spread. The main indicator of how thick a shrimp dip or spread will be though is the consistency of the base. Sour cream, yogurt, cream cheese and mayonnaise can be used separately or combined to create a creamy binder for the shrimp and simply adding milk a little at a time can help achieve the desired consistency. Experimenting with different combinations of these ingredients, as well as the amount of milk used can be one of the best ideas for making a dip.
Seasonings and flavorings can vary widely in shrimp dips. A little lemon or lime juice added to a shrimp dip can really bring out the seafood taste. Minced garlic and/or onion plus freshly ground pepper may be all the flavorings needed. For a shrimp herb dip, parsley or dill can be great additions. Sliced black olives can add interesting color to a creamy shrimp dip.
Some favorite, interestingly shaped "dippers" include bread sticks, oyster crackers, miniature rye bread, broccoli florets, cherry tomatoes and blue corn tortilla chips. Remember, dippers should match the shrimp dip's consistency so there won't be too thick of a consistency for chips or too thin a consistency for spreading on bread. Placing the dip in an attractive dish in the center of a large tray with the dippers around it is classic and attractive as well as practical. If serving a thicker spread that will hold its shape, a host could use an ice cream scoop to make uniform ball shapes to place on crisp lettuce leaves in small dishes at various places on a buffet or dining table for easy access by guests. Always chill dill spread or dip at least a few hours before serving.


By: nito

Shrimp.

By: Viktor

Dill is commonly used to season shrimp dishes.

By: Subbotina Anna

Black olives can add color to a creamy shrimp dip.