What Are the Best Foods for a Diabetic Diet?
The best foods for a diabetic diet are typically those that are considered healthy for almost anyone to eat, such as whole grains, fruits, and vegetables. Lean meats or acceptable meat substitutes are also generally recommended for diabetics. People who have diabetes are advised by doctors to steer clear of very high-fat, sugary foods for the most part. The severity of diabetes varies from person to person, and people with mild diabetes can occasionally enjoy sweets and fatty foods in moderation, while people with severe diabetes may have to avoid them altogether. Sometimes diabetics suffer from low blood sugar, and when this happens, they may have to eat foods that are very sugary to get their blood sugar levels back up.
Doctors occasionally give diabetic patients food guidelines to follow from the diabetic food pyramid, which clearly shows the types of foods for a diabetic diet to include daily as well as the number of servings for each food. Starches are listed at the bottom of the pyramid, and most diabetics are advised to have several servings of these each day. Some foods that count as starch are breads, potatoes, and pasta. Just above starches on the pyramid are fruits and vegetables, followed by dairy and meats. Sweets and fatty foods are at the top of the pyramid, and these should be consumed either in strict moderation or not at all, depending on the severity of a person's diabetes.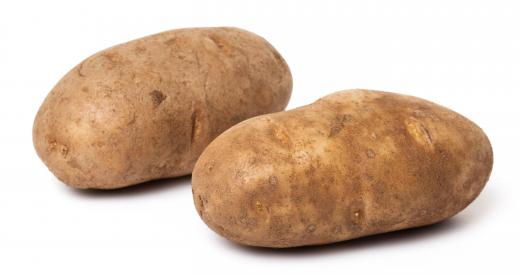 Starches are probably the most important foods for a diabetic diet because they contain lots of carbohydrates, which are essential for maintaining blood sugar levels. Diabetics generally have problems keeping their blood sugar stable, and this is why they have to make sure they get plenty of carbohydrates each day. Even though carbohydrates are necessary, they can occasionally cause weight gain if the wrong kinds are consumed. Diabetics who want to avoid problems with weight gain should choose starches made up of good carbs, like whole-grain breads and pasta, instead of bad carbs, like white breads and sugary treats.
Even though most diabetics are advised to avoid sweets or eat them only in moderation, doctors generally advise having sweet items around for emergencies. It is not uncommon for some diabetics to inadvertently cause their blood sugar levels to become too low due to taking insulin incorrectly or not eating enough recommended foods for a diabetic diet. If a person's blood sugar levels drop low enough, he could go into a diabetic coma, which is occasionally life threatening. Sometimes eating or drinking something very high in sugar is necessary in order to raise the blood sugar back up quickly to avoid serious problems.
AS FEATURED ON:
AS FEATURED ON:

By: Feng Yu

Potatoes count as starches.

By: freshidea

Diabetics should generally avoid fatty foods that are high in simple starch and sodium.

By: Serghei Velusceac

People who are borderline diabetics may profit from a diet that stresses fresh, non-starchy vegetables.

By: AAA

Whole-grain breads are an excellent dietary choice for people with diabetes.

By: Sergey Lavrentev

Testing blood sugar levels can prevent diabetics from dangerously low glucose levels.

By: baibaz

All sugars -- even those in fruits -- must be consumed carefully by diabetics or prediabetics.

By: Nitr

Diabetics who want to avoid problems with weight gain should choose starches made up of good carbs, like pasta.