What Are the Best Bacon Gifts?
Many people greatly enjoy bacon, making bacon gifts both a safe and often appreciated selection for birthdays and holidays. When choosing bacon gifts, it is always a good idea to first determine whether the individual actually likes or eats bacon, as some individuals may not consume it due to religious restrictions or dietary choices. When one determines that bacon would be a welcome gift, one should establish a budget and then seek out either the best bacon that one can find or find clever bacon related items or even some bacon gag gifts, depending on the purpose of the gift. In many cases, making gift baskets may be the most warmly received as they can contain quality bacon products along with some fun, non-edible bacon items.
When purchasing baking gifts for somebody who truly enjoys good bacon, a nice gesture is to seek out producers of artisan bacon. These producers often make bacon of very high quality which would be much appreciated by a serious bacon lover. Be aware that some of these small producers have a waiting list for their products, so it may be essential to start the search early in order to secure the bacon in time for gift giving. Another option is to contact local gourmet markets and butcher shops to find out about the availability of any artisan bacons that they may carry. if you find it difficult to procure artisan bacon in time for the gift giving occasion, ask about the possibility of getting a gift certificate which you can present to the gift recipient.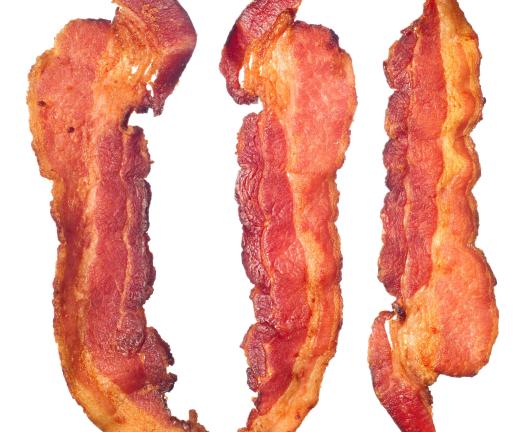 Some companies produce a variety of foodstuffs that contain bacon. These can include bacon spreads and jams, bacon chocolates and candies and even alcoholic beverages. These can make wonderful bacon gifts, particularly for someone who truly loves bacon and likes to eat it in many different forms. Another option might be a cookbook of bacon recipes.
Other bacon gifts can include bacon-themed stationary, magnets and even air fresheners. For someone who is truly a lover of bacon, specialized cookware for bacon preparation might be very appreciated. These can include bacon cooking racks for stoves and microwave ovens. Bacon-themed serving platters may also be appreciated. When putting together a bacon gift basket, consider a mix of the different types of bacon gifts perhaps adorned with pig or bacon ornaments along pig-themed wrapping paper or packing tissue.
AS FEATURED ON:
AS FEATURED ON:

By: Kelpfish

Bacon-flavored products have become popular as gifts.

By: Dani Simmonds

For those who enjoy cooking bacon, a bacon press, which ensures the bacon remains flat while cooking, could make an excellent gift.