What Are the Benefits of Aromatherapy for Hair?
Aromatherapy for hair offers many benefits. In addition to conditioning the hair without detergents or chemicals, essential oils can give hair luster and improve both natural and dyed hair colors. The scents of the essential oils often remain strong in the hair for hours, allowing the user to breathe in and enjoy them. This may particularly beneficial for those with high-stress jobs. Some essential oils are even gentle enough for children to use, allowing them to reap the benefits of aromatherapy as well.
There are several ways to use aromatherapy for hair. The first, and possibly the simplest, involves adding several spoonfuls of essential oil to a bottle of shampoo. This technique often works best in unscented shampoo for sensitive skin because the oils have less chance of reacting poorly with the detergents in these shampoos. Unscented shampoo also allows the oils to become the predominant scent in the product.
Those that prefer scented shampoos may choose to use essential oils that complement the fragrances of their existing shampoo. For instance, people that shower in the morning might add cinnamon oil to apple shampoo, or combine citrus and eucalyptus, for alertness and energy. Those that shower in the evening may opt to stir peppermint oil into vanilla shampoo or add lavender oil to a floral-scented formula to promote relaxation. This way, the user gets to use his or her favorite shampoo and get the added benefits of energizing or soothing aromatherapy oils.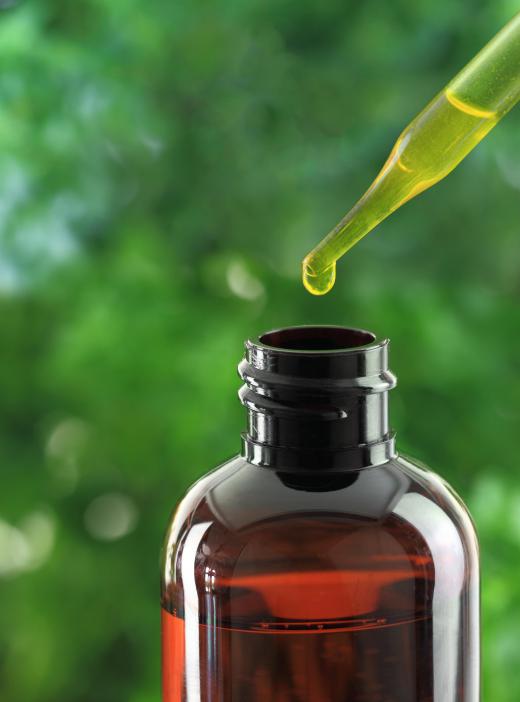 Another way to use aromatherapy for hair is to apply the oils right after rinsing. While the hair is still damp, the user may pour a little essential oil into his or her hand and gently rub it through the hair from roots to ends. This is especially beneficial for those that want the benefits of the scents, as well as the oils themselves. Lavender and rosemary, for instance, are soothing to the nerves and to dry, itchy scalps.
A third way to use aromatherapy for hair is to use essential oil mixtures in addition to, or in place of, styling products. This method usually produces the strongest scents because they aren't rinsed or toweled away after application. Those using non-aerosol hair sprays, hair gels, and hair wax may simply stir their favorite essential oil into the product. Others may prefer to simply mist their hair with a little oil after styling.
Patchouli, lemon, basil, and chamomile essential oils often absorb excess skin oil while giving hair shine. Chamomile and lemon promote blond highlights, while rosemary brings out brown highlights. Rose water works well for inflamed scalps and fine hair, while peppermint and myrrh may help hydrate dry hair. Many of these scents are also either invigorating and calming, generally giving those using aromatherapy for hair the benefits of beautiful hair and an improved mood.
AS FEATURED ON:
AS FEATURED ON:

By: Corinna Gissemann

Rose water is sometimes used for inflamed scalps or fine hair.

By: viperagp

Essential oils are sometimes used in hair oils.

By: Galina Semenko

Mint shampoo may aid in restoring scalp circulation.