What Are the Advantages of Radio Advertising?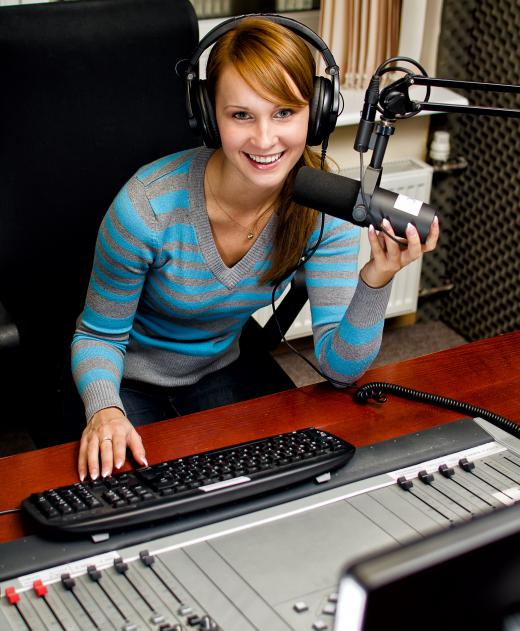 Television and Internet ads are able to supply visuals to their customers, so many marketing experts discount the advantages of radio advertising, which only supplies consumers with a voice and sound effects. Despite this, the advantages of radio advertising, such as the affordability of the advertisement, make it effective for many businesses. Unlike other methods of advertising, such as TV or Web advertising that can only be viewed from certain areas of the house, radio advertising can be heard anywhere. When advertisers use their own voice, they can build trust in their company, because the audience will feel more comfortable with the business. Radio advertising also can be used to target a certain audience very easily.
One of the major advantages of radio advertising for new businesses is its affordability. Buying a spot on a radio show, when compared to buying web and TV spots, is very affordable, so businesses with small marketing budgets can use this medium. Creating the commercial also is rather inexpensive. At its cheapest, the business owner can record his or her voice without any sounds effects and will only need to spend money on a recording device.
If the business owner is the one speaking in the commercial, and if the commercial is made to be very friendly and conversational, this can increase trust in the company. This is because consumers prefer to buy from companies that are willing to make a personal connection, and this makes consumers feel like they know the business owner. Many business websites make use of this technique, which tends to increase selling volume.
TV and web ads are very impacting and can immerse the audience is a powerful multimedia commercial, but they can only be seen from certain areas. One of the advantages of radio advertising is that it can be heard, regardless of the consumer's position. He or she can hear the ad while driving a car, sitting inside, walking around outside, at work if the job allows a radio, and nearly anywhere else. This portability makes it easy for consumers to hear the business's message, regardless of where they are.
Radio shows constantly collect demographic information about their listeners. This includes their age, gender, hobbies, location and other aspects that businesses need to know for advertising. With this demographic information, businesses can easily target certain customers. This is one of the advantages of radio advertising that will ensure that only consumers who would be interested in the business's product hear the commercial.


By: dmitrimaruta

Radio offers a medium for advertising.

By: WavebreakmediaMicro

Radio stations constantly collect demographic information about their listeners.