What Are Sweet and Sour Ribs?
Sweet and sour ribs are small pork riblets cooked with a sticky sweet and sour-flavored glaze. Popularly eaten in North America and Asian countries, like China and Vietnam, these tasty little morsels are usually enjoyed as a dish in a buffet-style meal, as an appetizer, or as a finger food. There are variations on the seasonings in recipes, but the cooking method tends to be the same.
This dish can be purchased from the grocery store or the butcher. Sweet and sour ribs are approximately 1 inch (2.5 cm) in width and come in strips taken from the side rib closest to the back. This cut is also called center-cut pork-side ribs. These long strips are then cut before cooking into bite-sized individual riblets, each containing a single bone.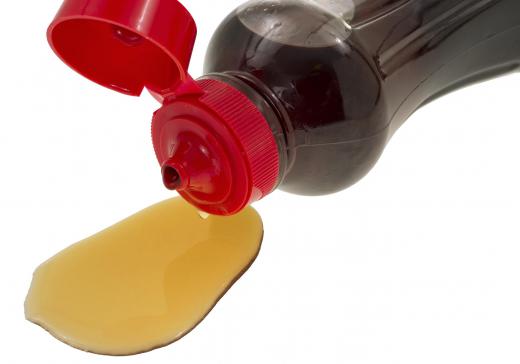 The key to cooking sweet and sour ribs is to first marinate them for several hours as it helps to make them more tender and intensify the final flavors. Cooks then place the ribs into a covered dish in the oven or slow cooker, along with the marinade, and leave them for an hour on low heat. This will make the meat fall-off-the-bone tender. If a marinade is not used, water needs to be added to the dish to keep the ribs moist. Seasonings, such as bay leaf, ginger, and scallions add flavor to the water and season the ribs.
Once the ribs have cooked for at least an hour, they are uncovered. Ribs being cooked in a marinade do not need other ingredients. If they were not, then cooks add the sweet and sour sauce at this time. The ribs are then cooked uncovered for another hour until the glaze has carmelized and become sticky, coating the ribs. This process is also often carried out in a wok; however, it is important to make sure the ribs remain moist while cooking because more moisture will escape into the air.
Ingredients that give sweet and sour ribs their characteristic flavor can vary. The sweet element tends to come from ingredients such as sugar, honey, and maple syrup. Sweet fruits such as pineapple and orange work, but they must be used alongside at least one of the aforementioned sweeteners in order to achieve the proper sticky texture. The sour in sweet and sour ribs comes from either tamarind or vinegar and cider, rice, or balsamic vinegar.
AS FEATURED ON:
AS FEATURED ON:

By: Bert Folsom

Sweet and sour ribs are often sweetened with maple syrup.

By: sattriani

Sweet and sour ribs may be found in some buffet-style meals.