Steam cleaners are surface cleaning machines that cleanse; remove allergens; and kill mold, bacteria, and fungus that can be overlooked by traditional vacuum cleaners. Hot water in the machine creates steam, which is worked into carpet fibers or other surfaces to loosen dirt and grime. Some of these types of cleaners work with commercially prepared chemical cleaning agents, while others simply rely on steam and rotating brushes to get the job done.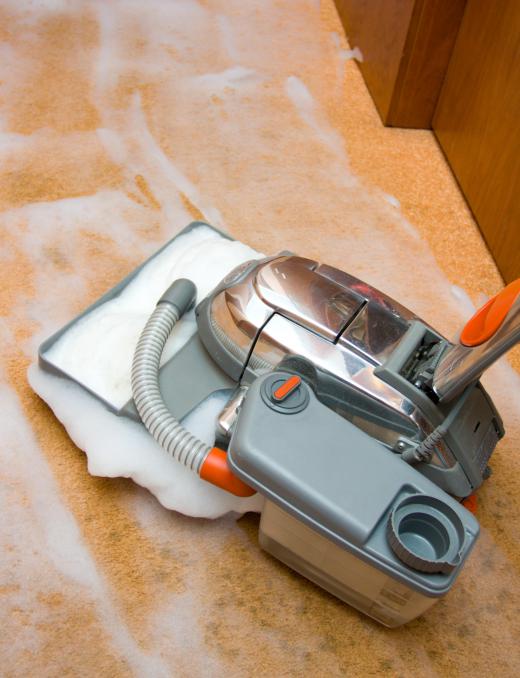 Steam cleaners can be purchased or rented for home use, and come in a wide variety of types and sizes. High demand for chemical-free cleaning alternatives has led to increased styles of these cleaners, from small hand-held systems to large industrial machines. Some resemble upright or canister vacuum cleaners.
The main difference between vacuum cleaners and steam cleaners is that a vacuum only picks up surface dirt. Steam cleaners get right into fibers, loosening any foreign material and vacuuming the soiled water back into the cleaner to be discarded after use. Your vacuum cleaner will actually perform better after steam cleaning, as the fibers of the carpet will be loosened. Steam cleaners can be used on carpets, most floors, vehicle interiors, outdoor decks and furniture, cement, bathroom or kitchen tiles and grout work, and many other places that require a deep cleaning. They are perfect for cleaning damp areas in your home, such as the basement, where mold is likely to thrive.
Basic steam cleaners use quite a lot of hot, not boiling, water, making it necessary to wait several hours after use for the cleaned surface to dry out. While this method is effective in getting rid of stains, ground in dirt, and mold or parasites, it can prove inconvenient because of the lengthy drying time. Many basic cleaners also use chemical-based cleaners in addition to the heated water.
Vapor steam cleaners superheat the water, creating a true steam cleaning machine. The water is brought to temperatures in excess of 260º Celsius (500º Fahrenheit) before being used. With this method, there is no need for chemical cleaners, and surfaces typically dry within 15 minutes. Allergy sufferers will find that these cleaners are a dream come true in doing away with dust mites, mold, fungus, and viruses that can grow and thrive in carpets and upholstered furniture. While steam cleaners shouldn't be used on any surface that isn't heat-resistant, most commercial carpeting and fabric is safe for steam cleaning.


Industrial grade steam cleaners can be rented from hardware stores.

By: TMakotra

Steam cleaning a carpet may help get rid of pet odors.

By: johny87

Mold and mildew can attack any porous materials in a damp room, including wood and textiles.

By: 9nong

Steam cleaners can remove allergens from the carpet, which can cause headaches.