What are Some Tourist Attractions in New Orleans?
New Orleans -- or N'Awlins like the locals say it -- is located on the Mississippi River Delta in Southeastern Louisiana. It is a city unlike any other in the United States. Founded by the French in 1718, New Orleans had periods of French and Spanish rule until 1803, when Napoleon sold New Orleans to the United States in the Louisiana Purchase. A mixture of the French and Spanish with slaves from West Africa, Native American Indians and Haitian refugees gave birth to the Creole culture.
New Orleans is a city of amazing multicultural and diverse history which transcends through its music, food and architecture. The most popular tourist attractions can be found near the French Quarter, referred to by locals as "The Quarter," a 78 square block area along the crescent of the Mississippi River which is considered the most famous neighborhood in New Orleans.
Music remains to be one of New Orleans' most famous tourist attractions. No matter where travelers go in the city, they are bound to hear types of music that are rarely heard in other areas of the United States. New Orleans is known as the birthplace of Jazz and travelers can hear sounds reminiscent of Satchmo (Louis Armstrong) in live music venues throughout the city and as they stroll along Bourbon Street, which runs through the heart of the French Quarter and is home to numerous bars, restaurants, adult clubs and gift shops for tourists. Visitors of New Orleans can also hear rhythm and blues and zydeco, which is Creole folk music made with an accordion and a washboard. Some of the most famous places in New Orleans for live music are Sweet Lorraine's and Preservation Hall in the French Quarter, Tipitina's in Uptown, and Snug Harbor in the Faubourg Marigny.
Another one of New Orleans' most celebrated tourist attractions is its food. Surrounded by fresh water and salt water, the seafood selection in New Orleans is nothing short of spectacular. In addition, pretty much anything is fair game. Tourists can visit Arnaud's landmark restaurant in the Quarter and order anything from crawfish to alligator to turtle, prepared traditional New Orleans Creole style.
The Creole heritage of New Orleans is responsible for the oldest American regional cooking style. Many Creole dishes start with the Trinity (onions, bell peppers and celery) and are cooked in a roux made of oil or butter and flour. Literally, restaurants all over New Orleans offer classic Creole dishes like red beans and rice, shrimp or crawfish etouffee and gumbo for all travel budgets. Visitors can also pick up a muffalatta or a po' boy, two different types of sandwiches native to New Orleans, to go with their gumbo.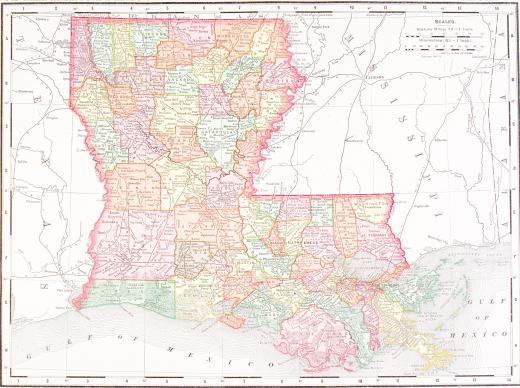 Travelers to New Orleans cannot leave the Crescent City without taking note of the architecture, especially in the French Quarter. Just as the food and music in New Orleans, the architecture is melting pot of Spanish, French, Creole and American influences. With narrow streets reminiscent of Paris, most of the buildings in the French Quarter have bright colors, wrought iron balconies, and courtyards as part of the Spanish legacy of the city. The residences throughout the most of the city are Creole cottages or "shotguns," long, skinny houses in which you could shoot a gun through the front door and it would come out the back door. On a short streetcar ride down St. Charles Avenue, visitors can go to the Garden District Area of Uptown to see historic Victorian and plantation style homes with spectacular gardens.
AS FEATURED ON:
AS FEATURED ON:

By: Calee Allen

A building in the French Quarter of New Orleans.

By: eastmanphoto

Alligator meat is served at the famous Arnaud's restaurant in New Orleans.

By: cobraphoto

Creole restaurants all over New Orleans serve gumbo.

By: qingwa

New Orleans is located in southeastern Louisiana and is the state's largest city.

By: WideAwake

Visitors to New Orleans may go to the Mardi Gras festival.