Miscellaneous
Fact Checked
What are Some Public Speaking Tips?
For many people, only the fear of death trumps the fear of public speaking. Indeed, delivering a speech in front of a group of classmates, business colleagues or complete strangers can be one of the most stressful activities imaginable for those who are not experienced or trained speakers. There are a number of public speaking tips, however, which can make the experience much more bearable. The most important of these, perhaps, is practice.
One of the most common public speaking tips is nothing replaces practice. This means not only writing and silently reading the speech, but also delivering it aloud until it becomes as familiar as it can possibly be. Many people who must deliver a speech at a business meeting or in front of a classroom do not rehearse the actual delivery as often as they should. Rehearsing a speech too much can lead to a mechanical or dull delivery, but the goal is to know the contents of the speech well enough to recite it like a Shakespearean monologue.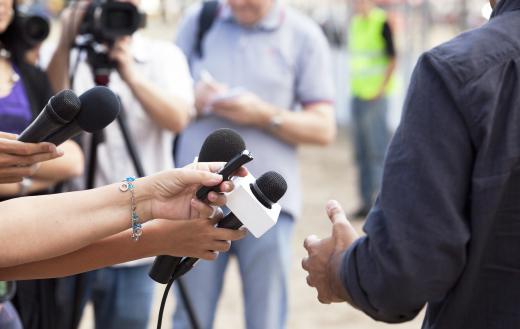 Other public speaking tips emphasis the mechanics of delivering a speech. Audience members generally respond well to brief eye contact, so a speaker should try to click on individual listeners with his or her eyes throughout the speech. Once eye contact is made, it is time to move on to the next person. When speaking in front of a larger audience, it is often helpful to pick out a spot just behind the audience, perhaps a clock or exit sign, and deliver the speech to that spot. The audience may assume the speaker is making more eye contact than he or she actually is, and the speaker doesn't have to feel intimidated by the sight of hundreds of eyes watching him or her.
Nervous energy can be put to good use by a public speaker if he or she can channel it effectively into the speech itself. Some public speaking experts suggest visualizing one's role as a messenger or spokesman responsible for delivering important news to an audience who needs to know. This should help a nervous speaker deliver the speech with a greater sense of confidence. Some people tense up because they are concerned their speech will not be well-received by an audience who knows more than they do.
Some older textbooks featuring public speaking tips suggest visualization exercises such as picturing the audience in their underwear or other humiliating circumstances, but few modern public speaking guides perpetuate this myth. It is better to establish a rapport with the audience through humor, sprinkling a few well-chosen jokes or personal anecdotes throughout the speech. Too much humor and not enough substantial information, however, can have a chilling effect on the audience over time.
If a speaker experiences too much anxiety or nervous energy before delivering a speech, he or she may want to do some light calisthenic exercises or take a walk around the venue. Standing behind the podium or lectern and rehearsing the speech in private may also help calm a nervous speaker down. A technical rehearsal may help a speaker become comfortable with the audio levels, ambiance of the room and glare of the lights. If the speech is displayed on a teleprompter or note cards, the speaker may want to rehearse using them before the speech.
There are a number of ways to learn public speaking tips. Speakers may want to try public speech courses at a college or business seminars featuring public speaking experts. Public speaking guides are also available as reference books in libraries or bookstores.
AS FEATURED ON:
AS FEATURED ON:

By: wellphoto

Fear of public speaking is common.

By: Antonio Gravante

Practice may improve public speaking skills.

By: kasto

Having talking points in mind can help public speakers stay focused.

By: Andres Rodriguez

People who have trouble speaking in public should start out with leading discussions with a small group and build from that.

By: Halfpoint

Public speakers should try to engage with their audience instead of simply speaking to them.