What are Some Different Styles of Women's Underwear?
There are many different styles of women's underwear, or panties, available today. Fabrics and styles vary widely, so it's easy to find something for each type of personality, comfort level and clothing style. Bikini, thong, brief and boy short are some of the most popular styles of women's underwear.
Bikinis are often high cut on the leg with a fairly narrow band of fabric on the sides. String bikinis have very thin side bands. The bikini style of underwear is often good for wearing under low rise pants.
Thongs are much like string bikinis without the fabric on the back. Instead they have just one center back string. The thong style helps avoid panty lines. G-strings may have even less coverage than thongs if the front area is just lace. G-string types may be part of lingerie sets that are considered quite sexy such as those with a short lacy nightgown.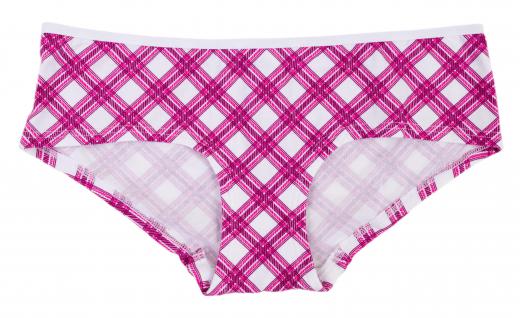 Briefs are the traditional type of women's underwear. They have a fairly high rise and fit low on the leg. These are often called by the slang term granny panties as they are associated with the earlier conservative styles of ladies underwear. This style may even fit higher at the waist than the belly button. Proper fit is important in this style or they may sag too much.
Boy shorts fit like a tighter version of briefs but are longer at the thighs. They are like tight shorts that are cut straight across at the legs. Boy shorts can be worn as summer pajama bottoms with a camisole or tank top. Swim suit bottoms are also available in the boy short style. Since boy shorts are often much lower at the waist than briefs, they are usually suitable for wearing under low rise pants and skirts.
Cotton is still very popular as a fabric for women's underwear. Many women wear cotton panties on a daily basis. Synthetic fabrics such as nylon are also used for women's underwear, especially for lace and fancier styles. Silk underwear is a luxurious and natural alternative to synthetic silky fabrics.
AS FEATURED ON:
AS FEATURED ON:

By: auremar

Underwear styles are made to fit different women's personalities.

By: Ruslan Kudrin

Underwear can be made from different fabrics into many styles.

By: vladimirfloyd

There are various styles of women's panties.

By: michelaubryphoto

Lingerie is a form of women's underwear.

By: Marin Conic

Because boy short underwear tends to sit low on the hips, it can be worn with low-rise jeans.

By: Ruslan Kudrin

Some women prefer lacy underwear for intimate occasions.

By: Roman Orlov

Boy shorts can be worn with a camisole in the summer.