What are Some Baby Hair Accessories?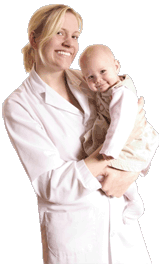 Due to the fine, soft texture of baby hair, baby hair accessories need to be both gentle and secure at the same time. Baby hair accessories may be composed of plastic, lace, felt, elastic, and other materials. Some hair accessories, such as headbands, require little to no hair; while other baby hair accessories, such as baby barrettes and elastics, are made to secure very fine wisps of hair without unnecessary pulling.
Unlike the traditional hard, plastic headband, a baby headband is most often made of elastic that's covered in a soft material which won't grab or pull the hair, such as cotton or satin. Baby headbands are sometimes also adorned with a bow, flower applique, or other decoration. Tiny tiaras are another type of baby accessory; however they should be used with caution due to their sometimes-sharp edges.
Baby barrettes are small, plastic clips that come in a variety of colors and typically require very little hair to snap into place and stay secure. Unlike barrettes for older children and adults, baby barrettes are usually exclusively made of plastic rather than having a separate metal latch that could scratch the baby's head. Bobby pins can also be used as a baby hair accessory, as they often come with decorative butterflies, flowers, and other appliques. However, bobby pins should be used with caution if worn on a baby, due to their sharp metal ends.
Hair elastics with baubles, bows, and other decorations attached are also popular among hair accessories for babies. Hair elastics for baby hair are often covered with terrycloth rather than coarser material which might pull the baby's fine hair. They are also usually smaller (about the circumference of a quarter), unlike larger, looser elastic hair bands such as scrunchies.
Companies that market products targeted toward children, such as Disney or Barbie, often sell a wide range of clothing and accessories for children, including baby hair accessories. These types of "brand name" hair accessories are often much more expensive than those which feature generic children's shapes and designs, as the companies mark up the retail price far beyond the relatively minimal costs associated with manufacturing baby hair accessories.
Doctor with a baby